Hobbiton, New Zealand
April 2023
Visiting Hobbiton is one of my most favorite things I've ever done! I absolutely love the Lord of Rings movies. I have watched the Fellowship of the Ring countless times. The beginning is my favorite part which is all set in the Shire.
It's nothing short of amazing to see the real thing in person! A real dream come true! Hobbiton is everything you want it to be and worth everything you have to do to get to New Zealand! It's just pure joy being there.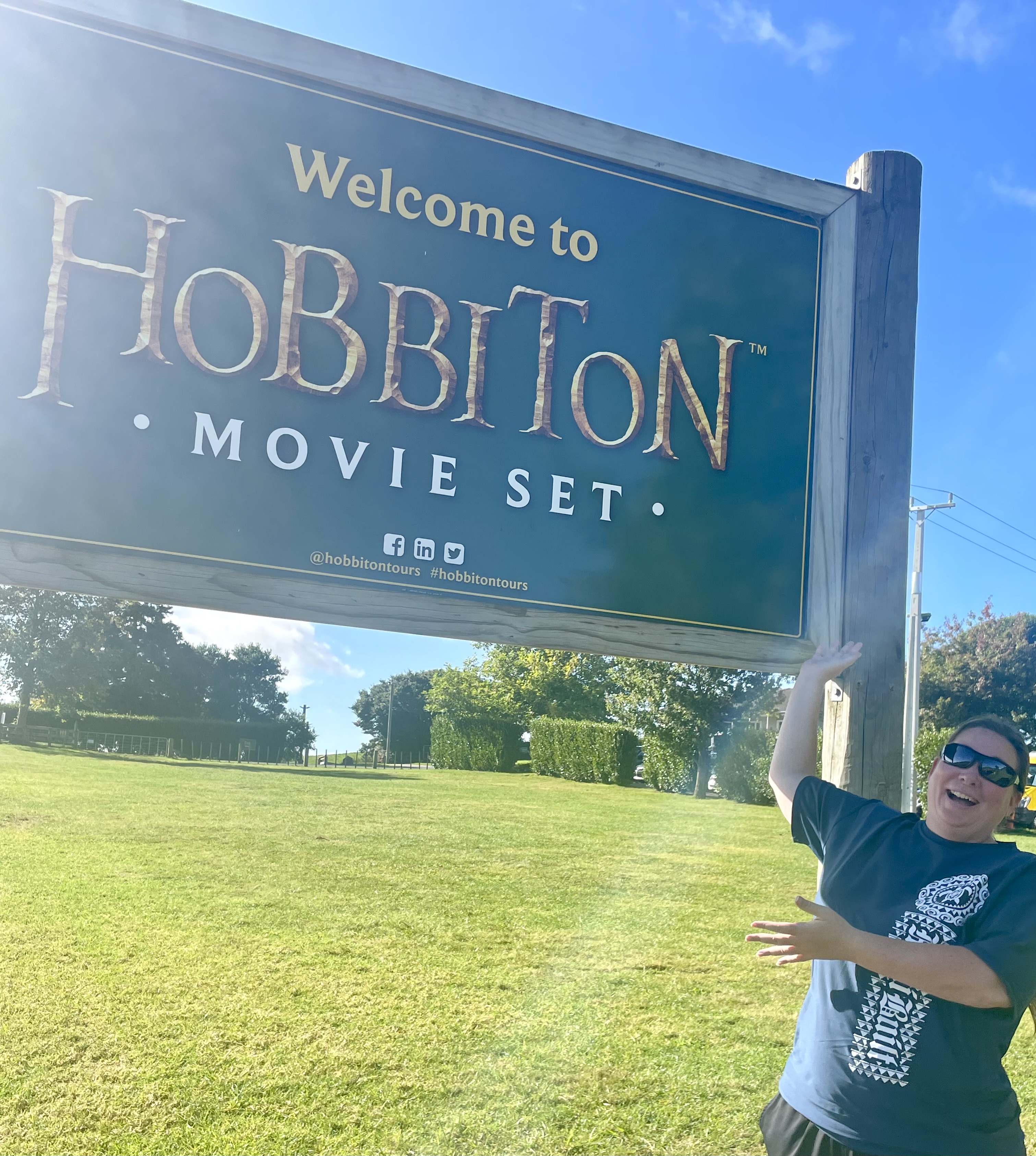 I think you could still enjoy a visit to Hobbiton Movie Set even if you've never seen the movies, you will just experience it differently. For example, you won't start tearing up on the bus from happiness the moment you catch a glimpse of the Shire for the first time.  
Hobbiton is so cute and photogenic it's surrounded by beautiful rolling hills. This place is one of the main reasons people from across the globe make the pilgrimage to New Zealand.
---
Hobbiton is located in Waikato, New Zealand on the North Island. It's about a 2 hour drive from Auckland. Since I didn't want to deal with the anxiety of driving on the other side of the road, I took an organized tour to Hobbiton. They picked me up and dropped me back off at my hotel in Auckland's central business district. I like easy and convenient!

I traveled with Bush and Beach Tours. (I'm not affiliated with them.) Our driver was great and became instant friends with everyone. I chose the tour that included lunch at Hobbiton and that went to the Waitomo Caves afterwards to see the glow worms. It's a very long 12 hour day but I'd do it again. Both are once in a lifetime experiences. I still can't believe I got to do it! Yay!
The Hobbiton Movie Set is still a working farm. It's owned by the Alexander family. Russell Alexander, the one that allowed Peter Jackson to film there, has retired from farming but his kids are still doing it. I saw them drive by on an ATV! And yes there are tons of sheep! It's a gorgeous place. It's 1200 acres!
Just imagine that life changing knock on the door that created all of this! Funny enough the first time the location scouting people knocked on his door - Russell told them to go away because he was watching Rugby. Haha!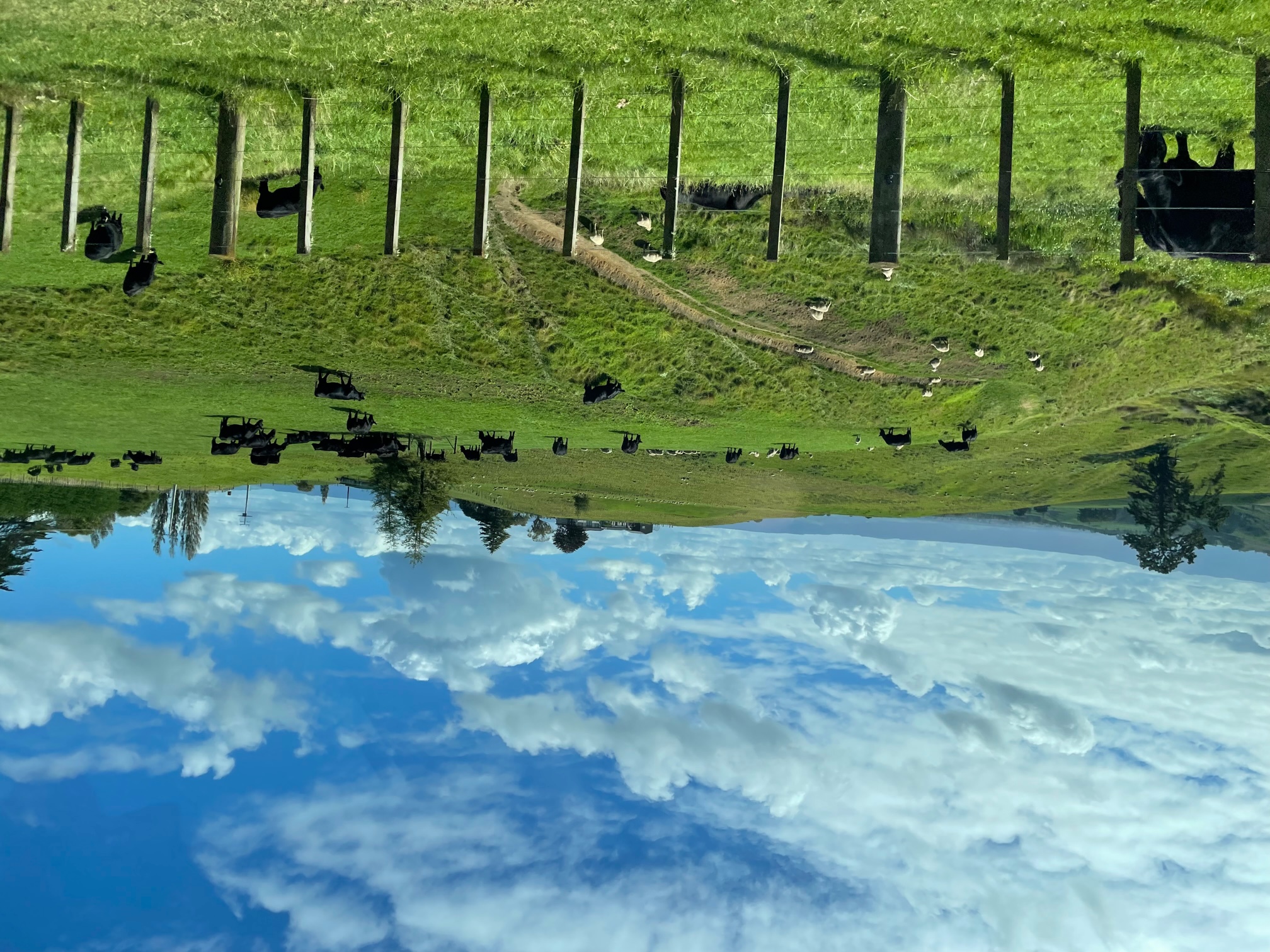 Once you arrive at Hobbiton's base, known as The Shire's Rest, there are bathrooms, a café, and gift shop. One of the guests on my tour promptly bought the One Ring at the gift shop and put it on. I was impressed. Might as well go all in, right? I got a Hobbit Door T-shirt. A much cheaper souvenir but believe me when I say that I wanted ALL the things! You can visit the gift shop without taking a tour - but the Wētā gift shop in Auckland has way more merchandise and it's incredible!
Then you get in line with all the other people booked in your time slot to board a coach that takes you on a 10 minute ride into Hobbiton. Tip: After boarding sit on the left side for a better view. Once the coach starts the Lord of the Rings theme music starts. Cue tears. Then a video plays of Peter Jackson and Mr. Alexander welcoming you to Hobbiton.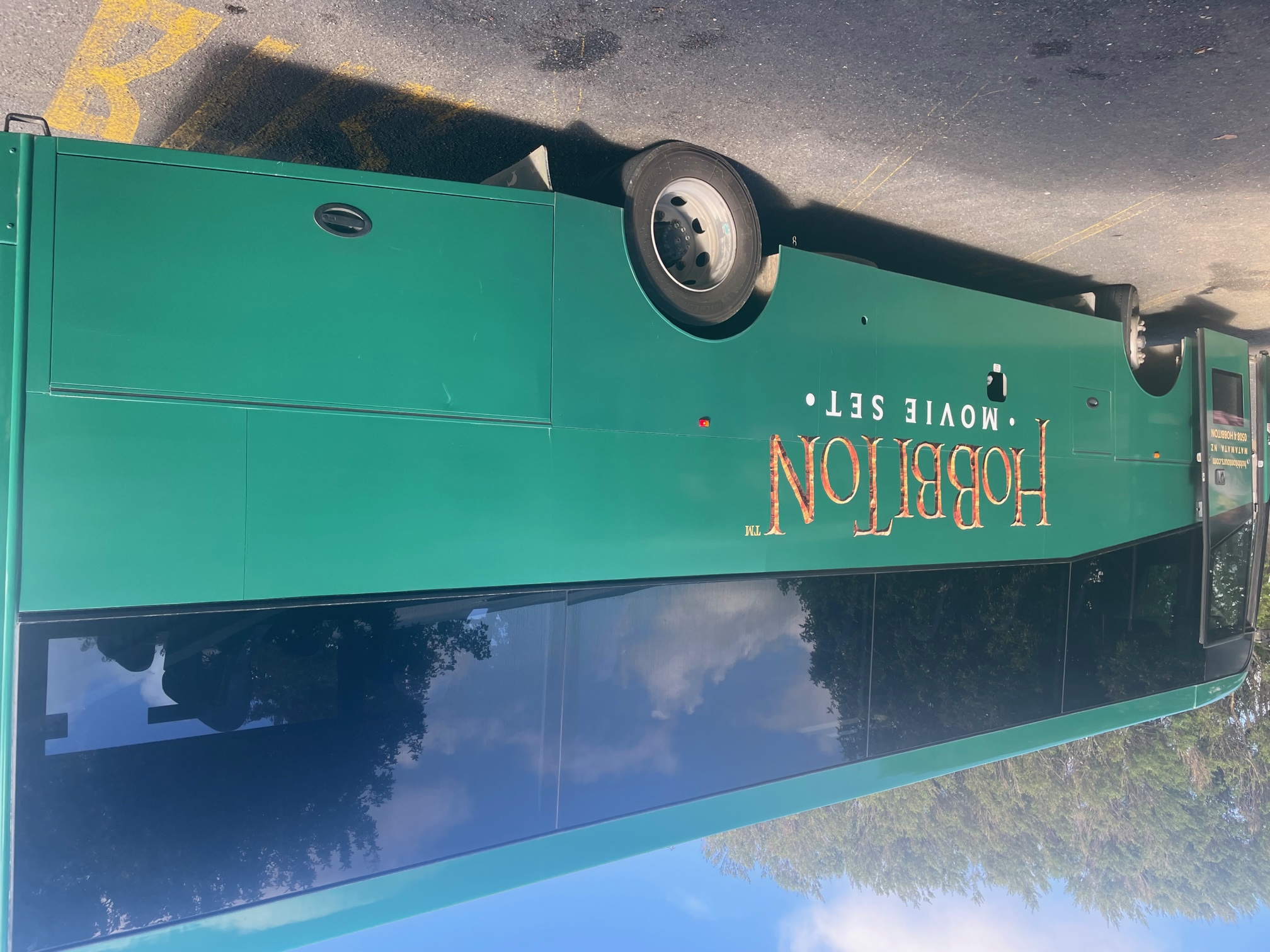 You get off the bus and meet your Hobbiton guide and then it's off to explore the Shire. There are 44 Hobbit Holes and so, so much detail to notice along the route. Currently there is one hole door that opens but there is nothing inside.
While I was there, construction was underway to build 3 full Hobbit Houses with interiors that you can go inside and venture beyond the door. They're hoping to complete construction by the end of 2023. Looks like I'll just have to go back!

The only way to visit Hobbiton and the Green Dragon Inn is by guided tour. The pathways are pretty narrow and you walk through the Shire pretty slowly allowing everyone in your group to get their photos at each hole. It takes about 2 hours.
I was lucky to visit on a gorgeous day after a series of extreme weather battered New Zealand. They offer big free umbrellas in case of rain. 
It's best to bring as little as possible. Just leave it all on the bus (the one waiting in the parking lot not the green one!). I just brought my camera and some water.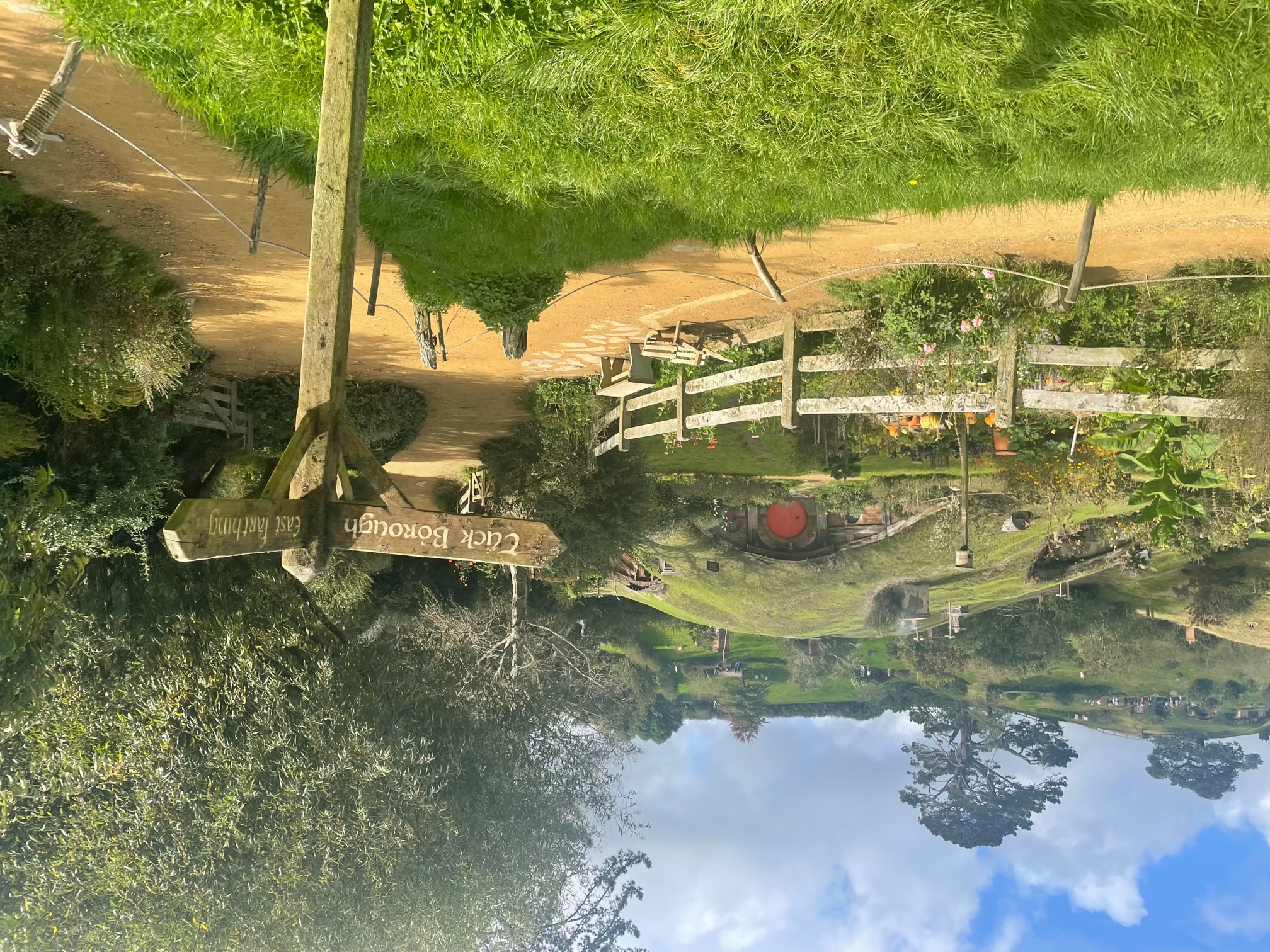 This is the entrance. Bilbo's house is way at the top.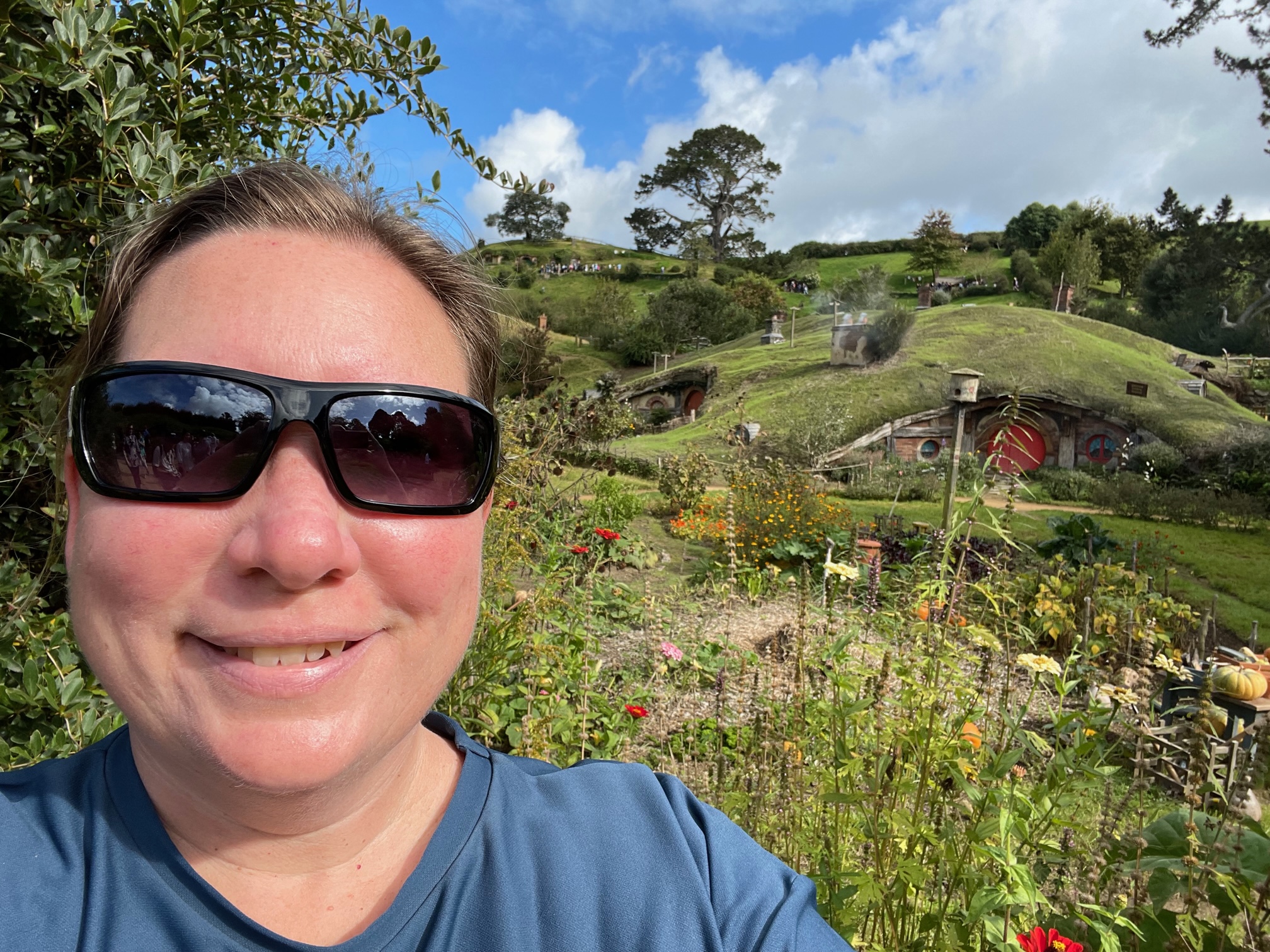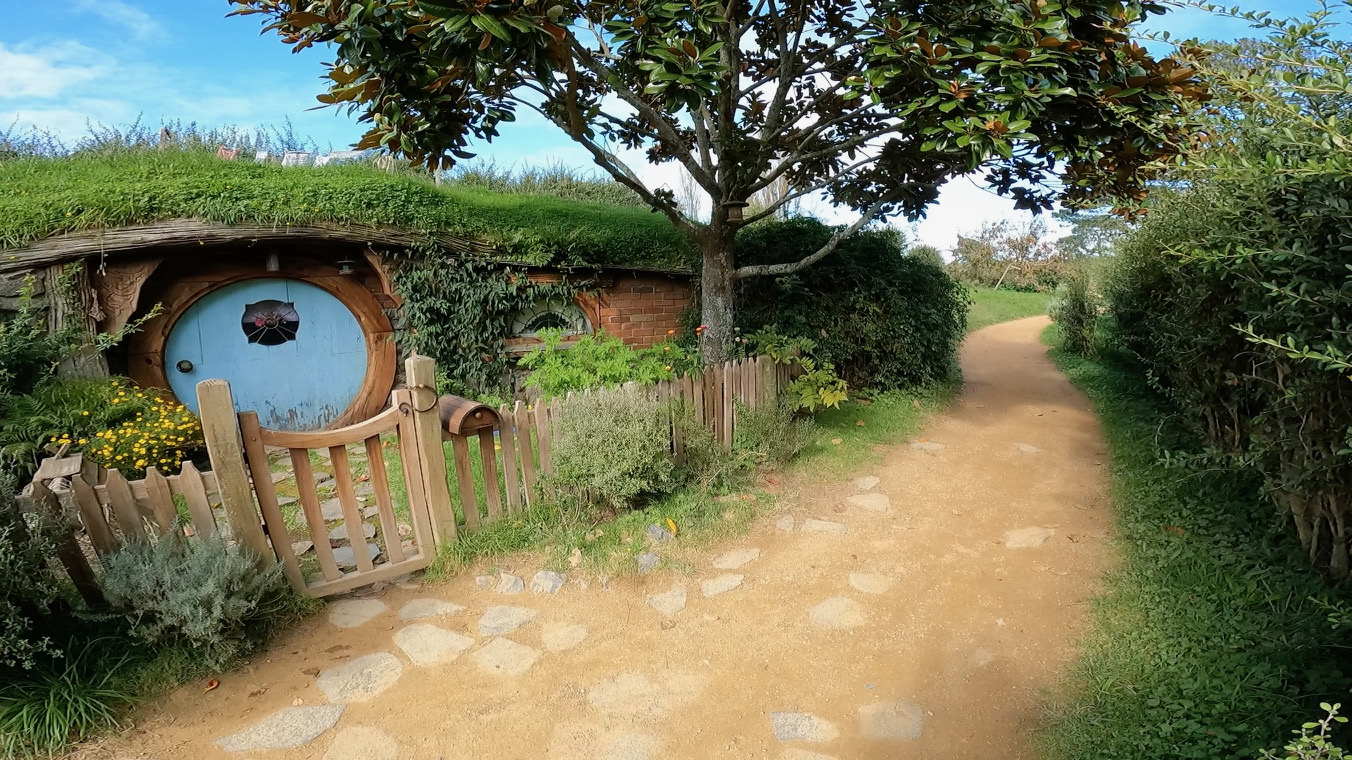 Look at the mailboxes!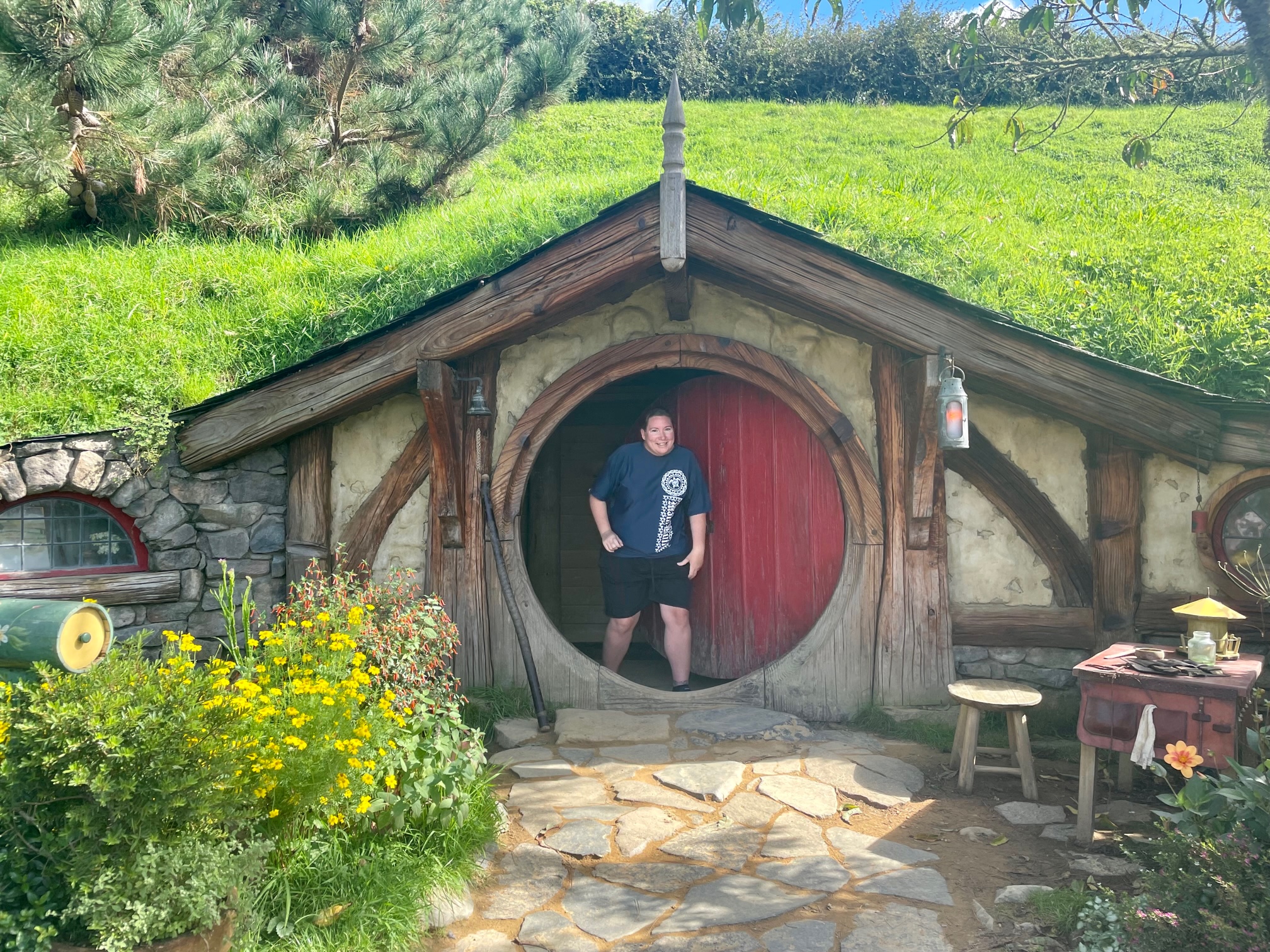 Sadly there's nothing inside. 
I know that's a weird pose, I was walking out. The photos with me in them were at the mercy of other guests taking them. Always take like 10 to give people options!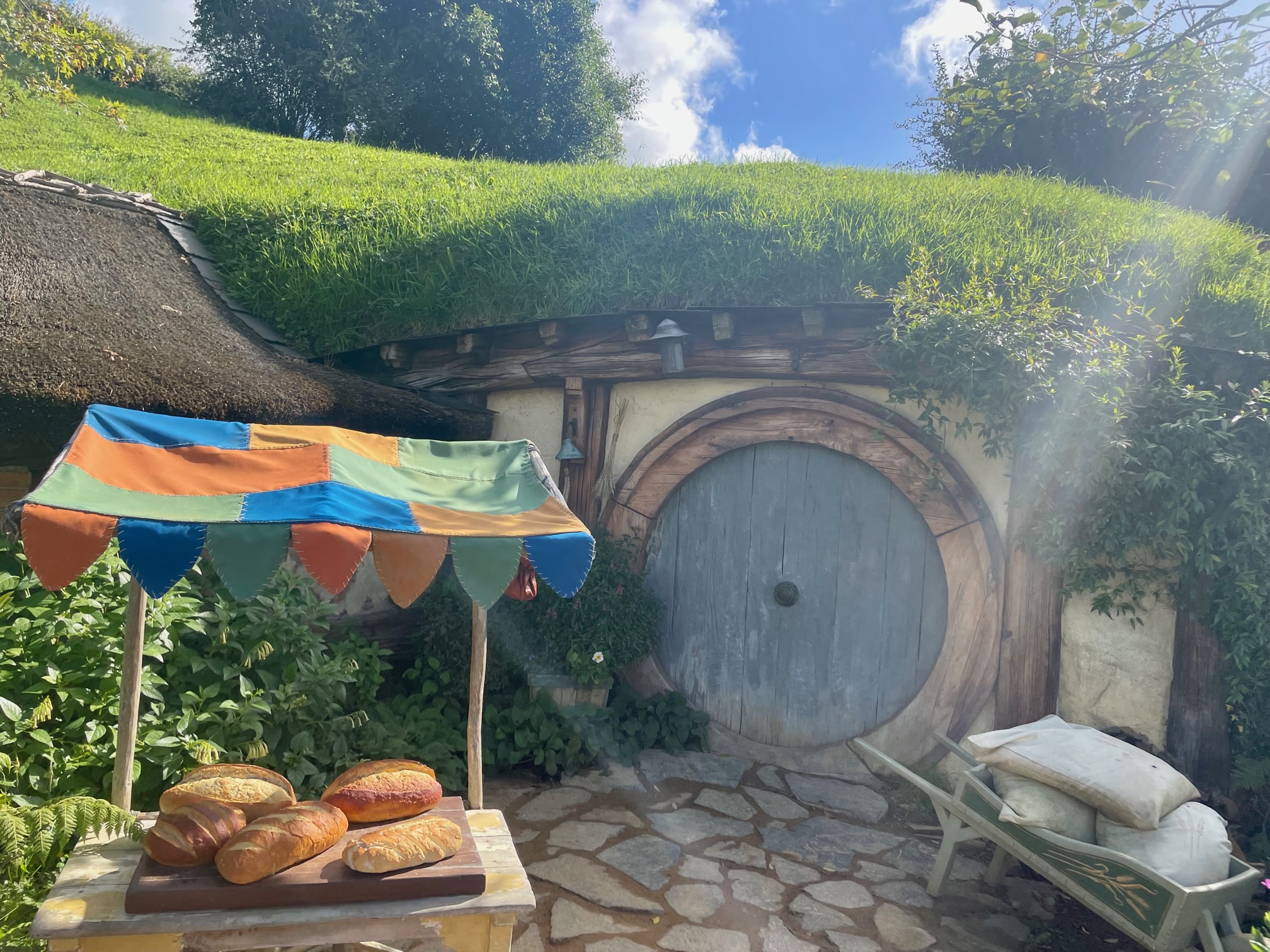 Bilbo's House!
After touring the Hobbit Holes it's time to make your way to the Green Dragon Inn for a pint!
Peter Jackson hired a master wood carver to come out of retirement and make him a sign for the pub. It's so well done!
He also brought people over from Scotland to thatch the roof. It's incredible. 
I'm telling you the detail of this place is something else.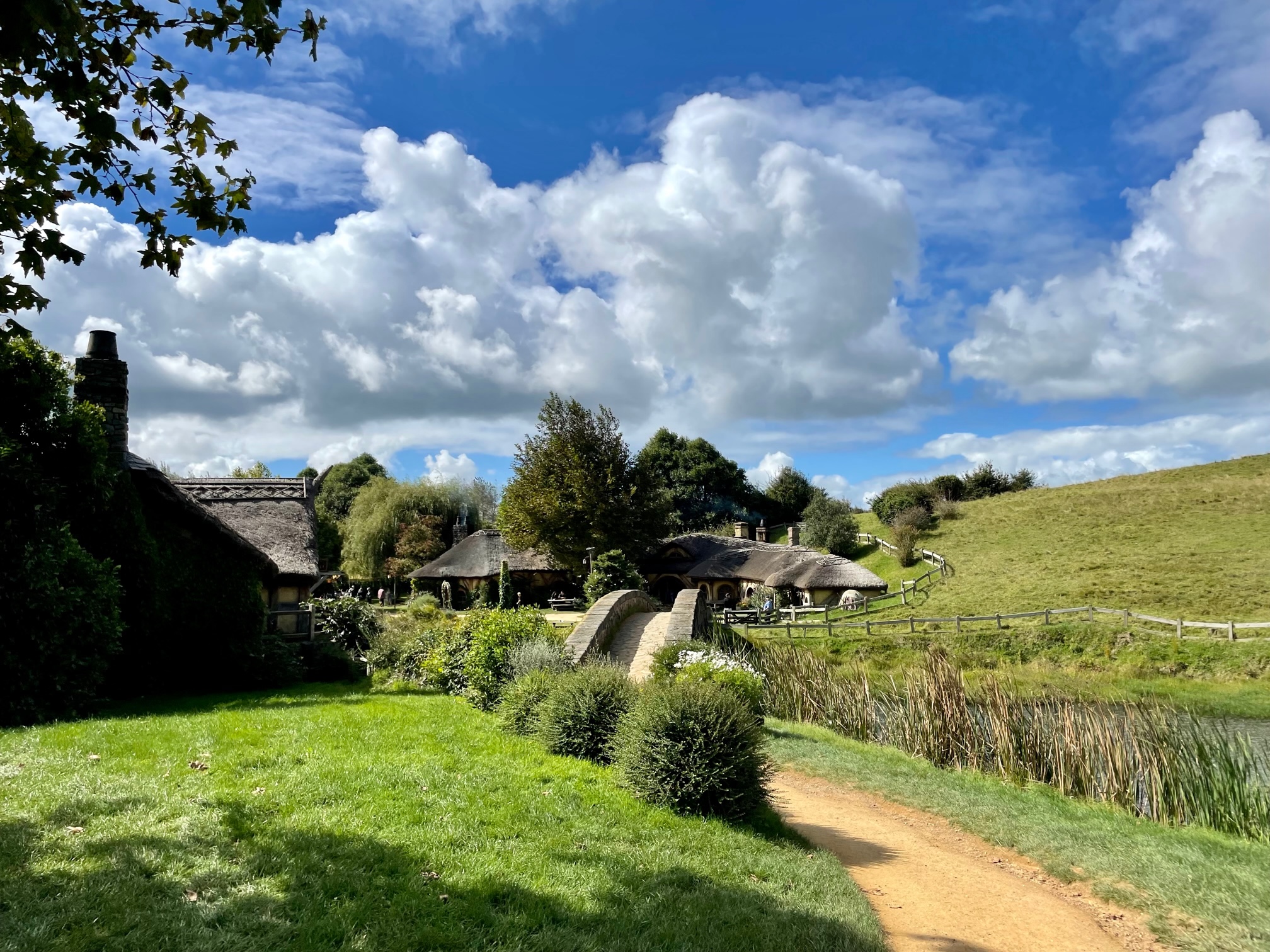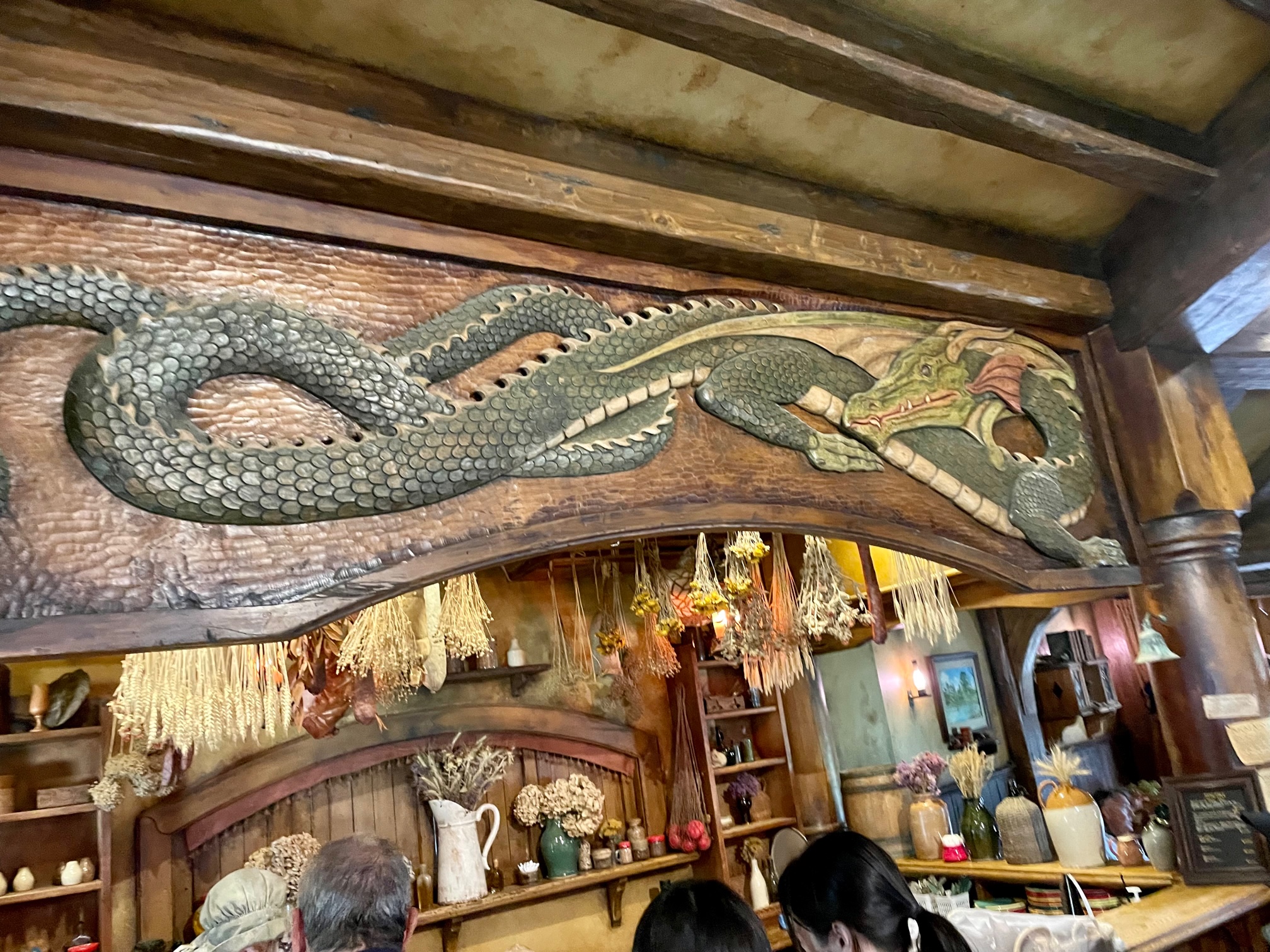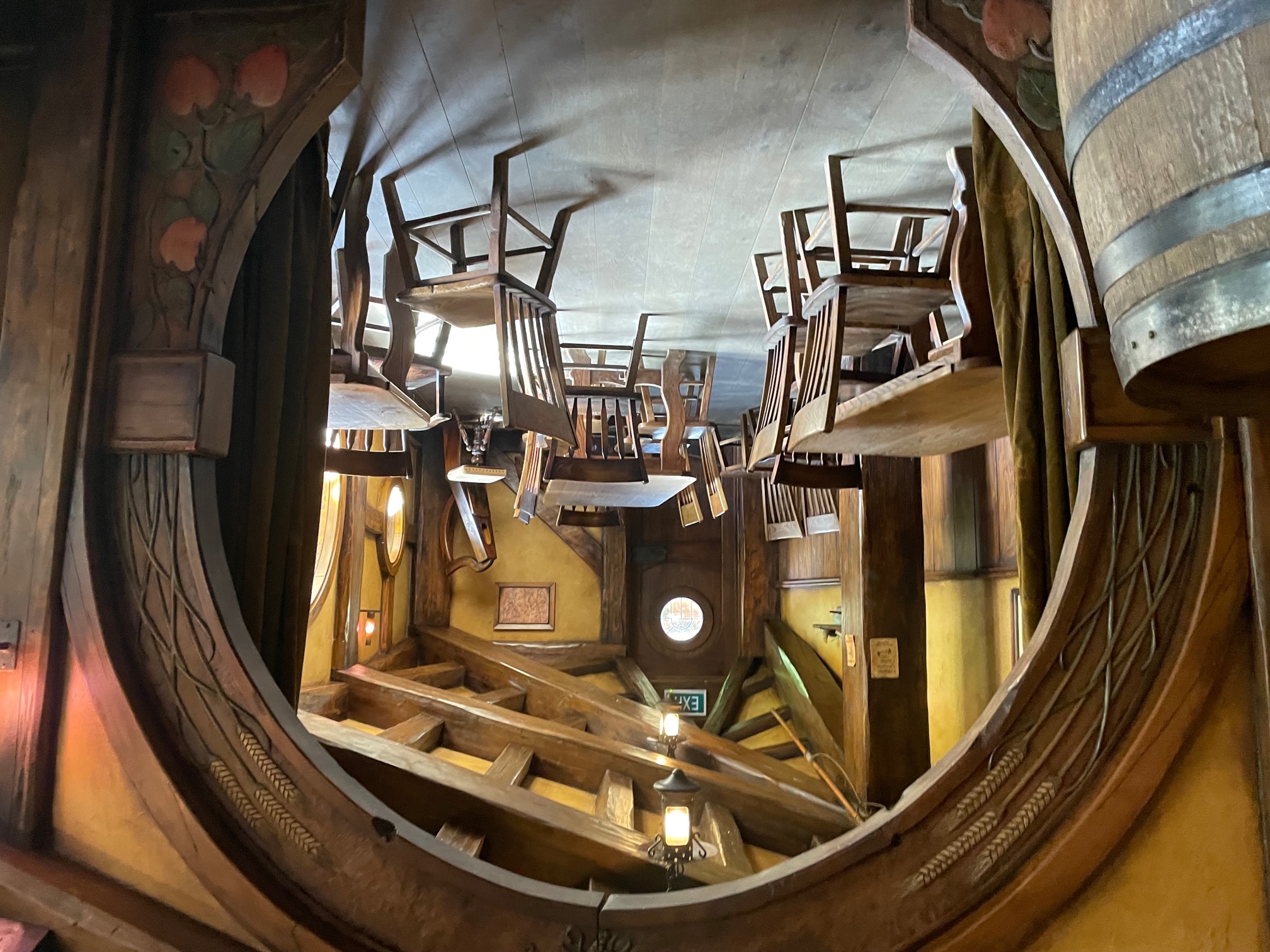 After your complimentary pint it's on to Second Breakfast - if your tour includes lunch! There was a huge buffet and the well water was quite good and cold!
Our group from the Bush & Beach tour were the first ones seated and the tent was at full capacity! The atmosphere was rather festive. The feast was well run.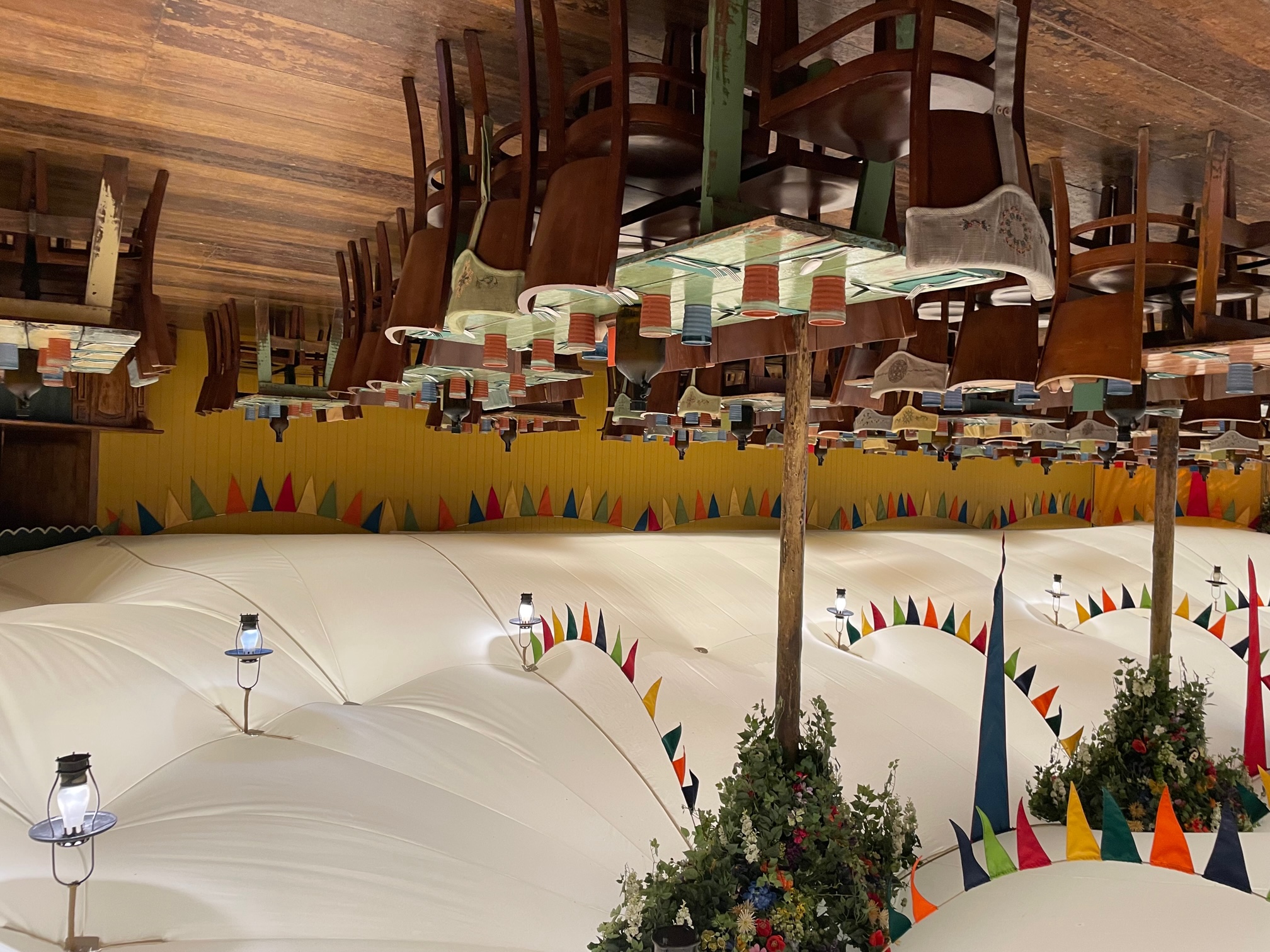 We've had one dessert, yes. But what about seconds, thirds, fourths, & fifths?!
It was such a fun experience. The stoke level was so high.
I was very bummed to have to leave! Oh, man it's over? 
Visiting Hobbiton is well worth the long journey to get to New Zealand especially if Hobbiton is on your Bucket List. I hope to do it again! I want to see the new Hobbit holes they're currently building with interiors.
While you're in New Zealand don't forget to visit Wētā! The Wētā Workshop Unleashed tour takes you behind the scenes on how special effects are made for movies and so much more. Wētā artists are the ones that created Middle Earth and brought Gollum to life. Their artists also make all of the awesome sculptures and collectibles. 
---
---