Sydney, Australia
April 2023
I'm someone that usually extensively plans trips. Not this time! I came to Sydney just winging it with my little Lonely Planet pocket guidebook. 
It was an impromptu decision to even come. My trip to Auckland kept changing due to issues with flooding and a cyclone so I ended up cutting that trip short and hoping over to Australia. Why not? You can't go all the way to New Zealand and not go to Australia too!
Being an avid snorkeler I would have preferred to visit the Great Barrier Reef on my first trip to Australia but that was an 8 hour flight from New Zealand. Sydney was only 3ish. 
Sydney is a big city. It was hard to know where to stay. I narrowed it down based on the hotel chain. I stayed in a Holiday Inn while in London that I liked so I browsed through the ones in Sydney and chose Potts Point based on the hotel's description of the neighborhood.
"Potts Point is a magical mix of elegant art deco architecture, late Victorian terraces and heritage mansions. It has a village-feel with its leafy streets. There are small laneways and hidden staircases that surprise as they unveil panoramic views of Sydney's harbour and skyline."
Hidden staircases? Sign me up!
---
As much as I've always wanted to visit Australia, I got very overwhelmed traveling to Sydney. I just started off the trip on the wrong foot.
On my day of travel I woke up with a bit of vertigo and was not feeling great. My extra comfort seat near the front of the plane got changed to a seat in row 58. For not being a very long flight, it took 8 hours of travel once I left my hotel in Auckland to arrive at my hotel in Sydney.
I found Sydney's airport confusing. There were no clear signs on where to go. Half the people from my flight went straight and the others went right. I just guessed and went right. 
Then I had to find some wall space to fill out my customs form that Air New Zealand handed me when I walked off the plane. Why not hand them out before we land??
The customs line was wrapped around the baggage claim. I had to declare my Manuka Honey from New Zealand. It's ok to bring but you still have to declare it.
I got on the train in the airport and then couldn't figure out where to go once I had to change trains at Central Station. Again there were no clear signs. I wasn't the only one standing there confused.
I saw someone ask a janitor for help and then I ran over and asked him too. He pulled out his phone and he had an app that told me what platform I needed. I never would have figured that out.
Once I got on the street my phone map was telling me to cross the street but I knew that my hotel was adjacent to the train station. I just couldn't find the entrance. It was confusing!
---
I had just spent a week in hotel on the water with a balcony where I had the door open the entire time so when I walked into my hotel room in Sydney I was immediately hit by the dank air. The hotel hadn't had so much of a whisper of fresh air in probably 200 years. Bleh. The windows didn't open but I could see the Opera House from them.
After all the hassle of getting to my room, I was in no mood to venture out into the chaos outside so I ordered room service and went to bed. I woke up at 12:40am.
The breakfast buffet was not great. Bleh. The breakfast buffet was one of the main reasons I chose this hotel the buffet in London was excellent. This was not. 
I also chose it because of it's proximity to the subway - which ended up closing after my first day for maintenance work. Urgh.
I had trouble finding the Woolworth's grocery store that my phone map was showing me was just 300 meters away from my hotel so I asked a shopkeeper. He looked at me like I was a moron and then told me to go up the escalator next door where it says Metro.
Ah. Of course.
Hello Sydney, I'd like to introduce you to the concept of signs. They're really quite helpful when used correctly.
I was so frustrated. Nothing was going right. I felt like a big baby and just wanted to go home. This usually happens at some point during my trips. For every fun and happy picture is an equal unpictured low point.
An unknown number texted me asking, "How are you doing?" Not great, creep!
---
Royal Botanic Gardens
Not being a fan of public transportation, on my first full day, I took the subway only one stop away from my hotel and headed to the Royal Botanic Gardens. It started raining as soon as I arrived.
The gardens were massive. They were filled with neat big old trees and unique birds making crazy sounds.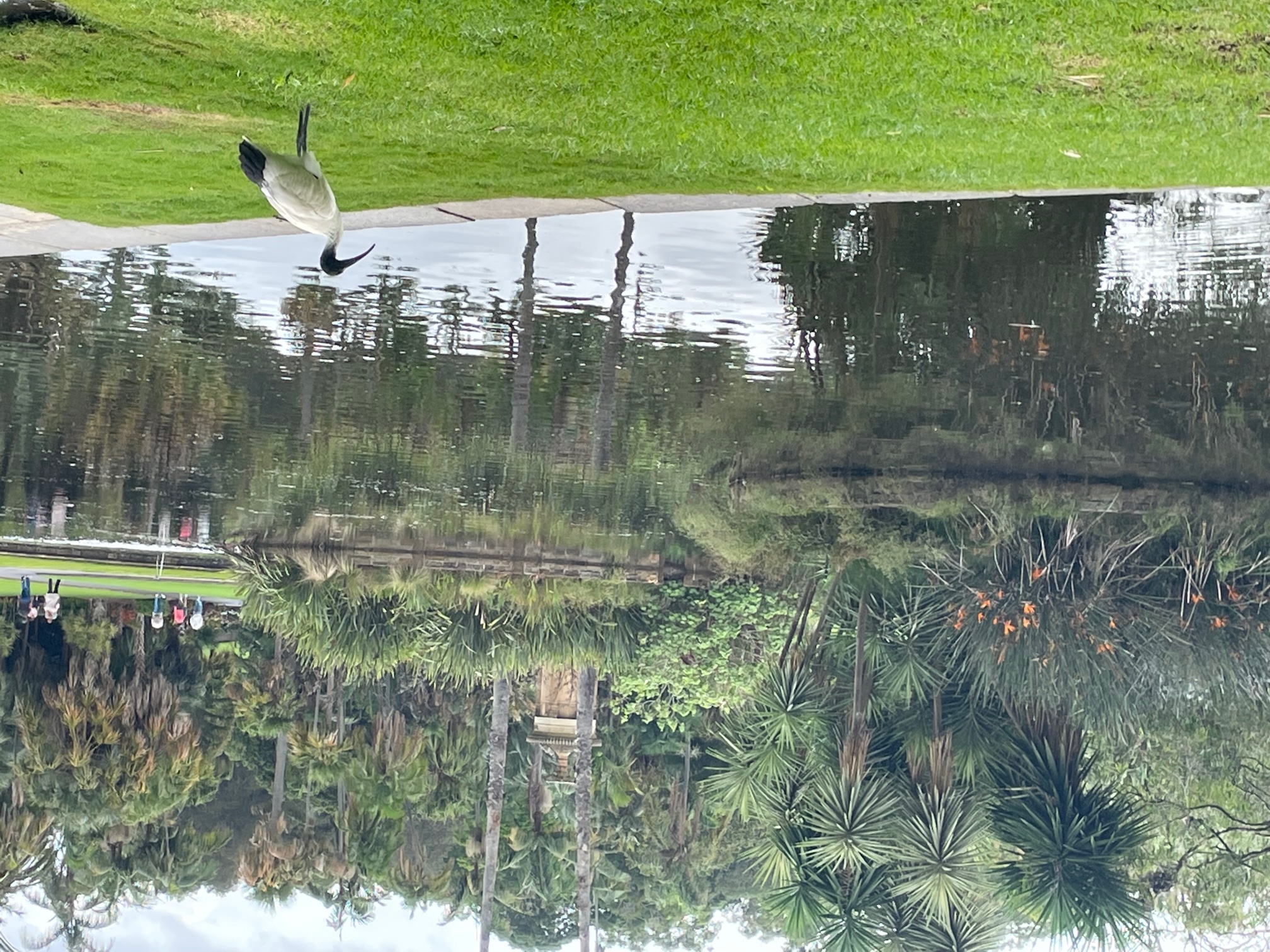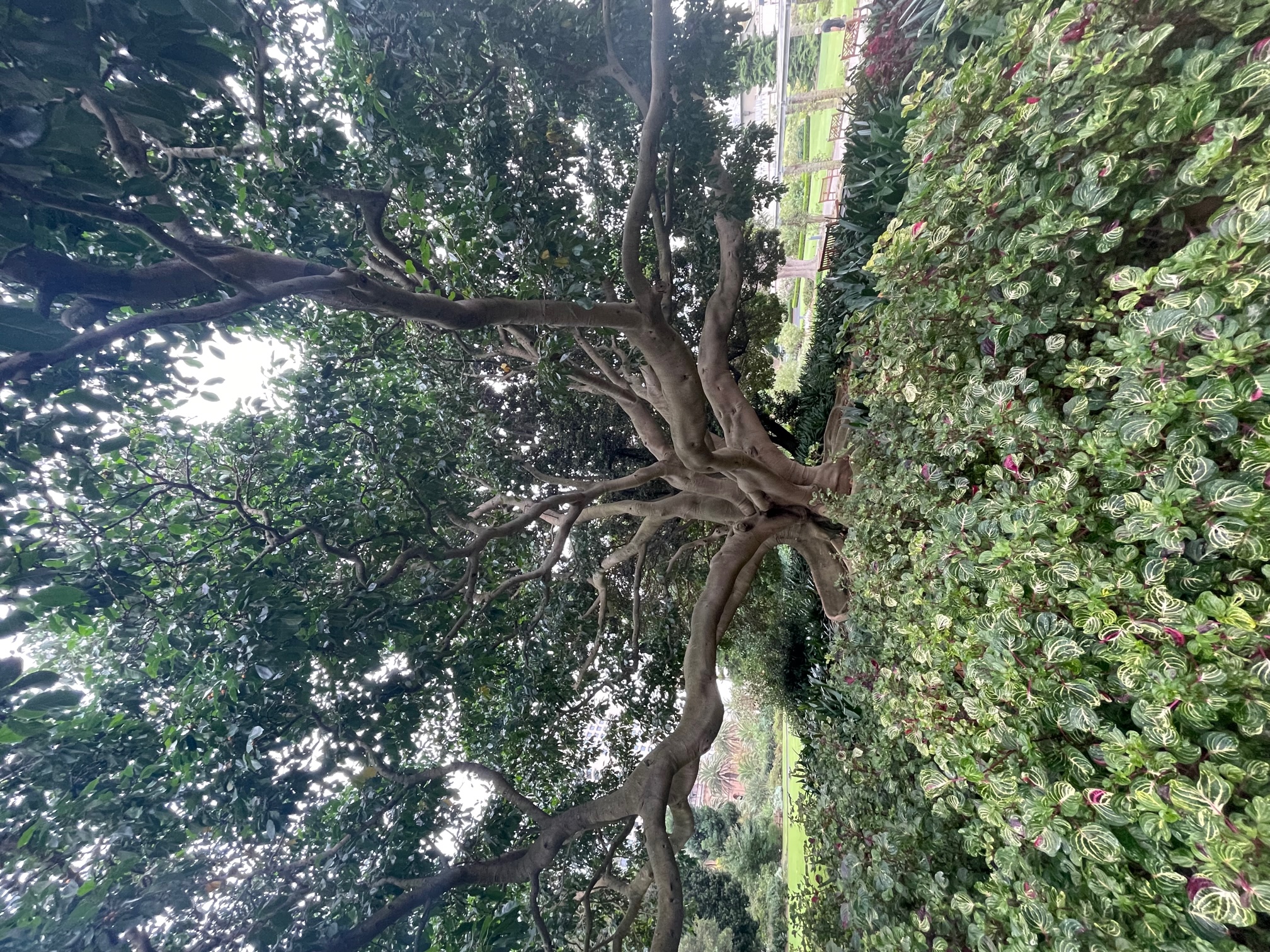 Through the gardens, I made my way down to the Sydney Opera House.
I was really surprised that I ended up there from the gardens. It wasn't on my agenda when I left the hotel but I saw an actual SIGN pointing the way while I was walking around the gardens and what do you know I found it!
Such an iconic landmark.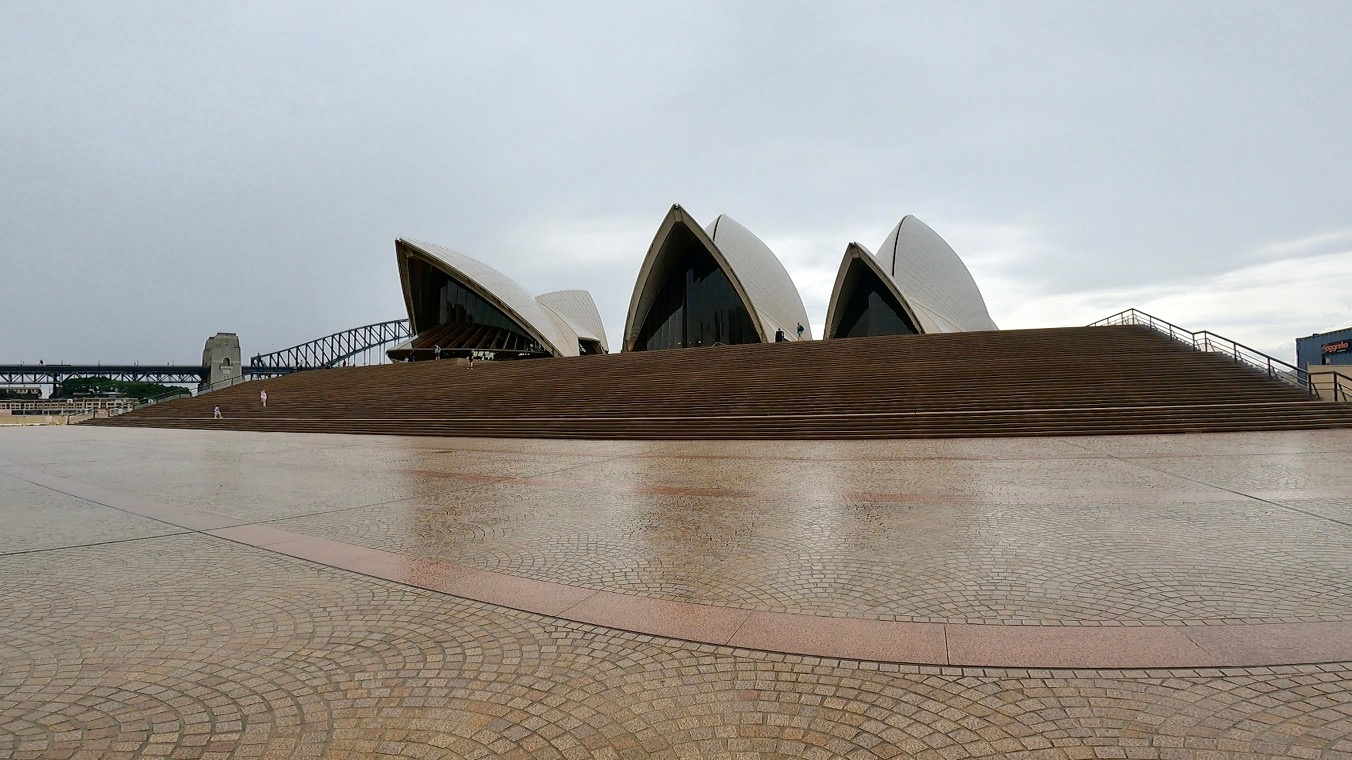 ---
---
It was so much walking for someone who is used to driving everywhere. 11,00 steps on this outing alone!
On the way back to my hotel I stopped at the New South Wales library. It's the oldest library in Australia. It's a large reference and research library open to the public. 
They have a small shop inside where I loaded up on books to shlep home.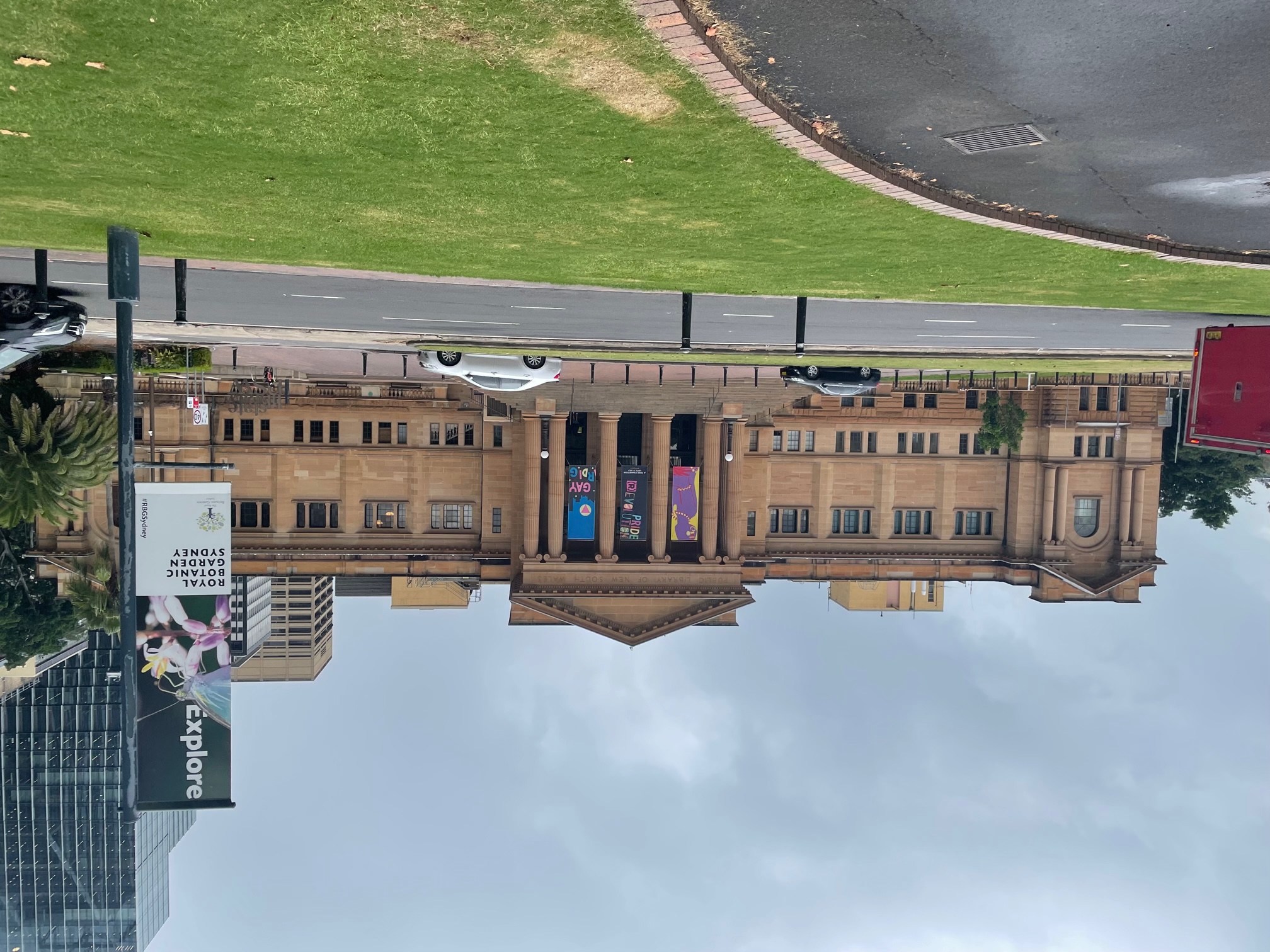 ---
Transportation is always my biggest challenge while traveling.
On my second day, I booked a 3 hour city tour from a brochure I found at my hotel. The pick up location was at the fountain in Hyde Park. I knew I could get there using the same subway stop I used the day before to get to the Royal Botanic Gardens.
But I walked next door to the subway station to find that it was closed! Of course.
I walked back to the hotel and there was a taxi out front but the driver wouldn't take me to the park! He told me to walk. He said just go right and then right again. 
I ordered an Uber. It was not just right and right again. Dick!
I got to the fountain and it started raining.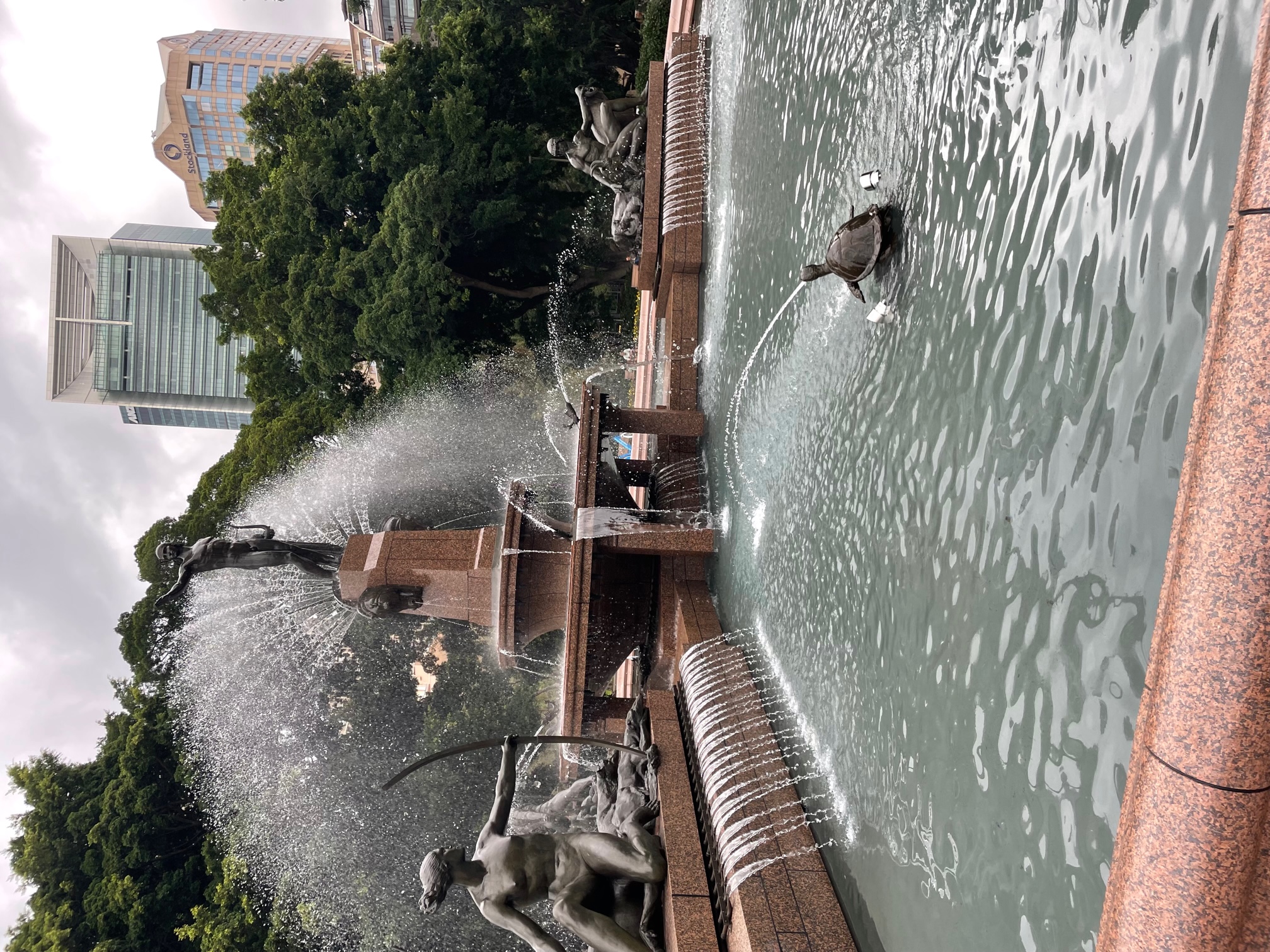 The tour guide was a disaster. He had trouble leading the group waiting at the fountain to the coach. There were some problematic guests. There were a lot of people. It was like herding cats.
I don't know where he was from but he had a thick accent and was difficult to understand. He couldn't deliver any of the punch lines in his scripted jokes. I hate bad jokes. 
Our first stop, in the rain, was to the one place I'd already been. A lookout of Sydney Harbor Bridge & the Opera House.
It seems like we just toured through wealthy suburbs and a lighthouse. 
This was a private school.
Bondi Beach
Eventually it stopped raining just in time for our last stop at Bondi Beach.
The sun was shinning and it was a perfect beach day. We only had 30 minutes here so I told the bus driver I would not be getting back on the bus for the ride home. 
I had planned to possibly stay. I brought my swimsuit and flip flops (and rain jacket, hat, & umbrella) so much shit to carry around for miles and miles of walking.
The beach is my happy place. Bondi Beach is massive! And gorgeous! I can't imagine only spending 30 minutes here. I ended up coming here multiple times. I should have stayed in this area! Fresh air!!
On the south side of Bondi Beach is the world famous Icebergs Pool Club. I'd seen pictures of this place online at some point and put it on my Bucket List before I even knew where in the world it was. It's in Sydney! 
The pools are on the rocks right up against the ocean and are filled with ocean water. You can watch the massive swell and the surfers while enjoying the ocean from a safe place.
Maui needs something like this on big swell days. So many people end up getting injured by the big waves. 
Anyone can use the pool for a small fee. Becoming a member of the club is much more difficult.
I am not a frequenter of public pools (or gyms) so there was a bit of culture shock when I walked into the locker room and there were wet naked people everywhere. Yikes! I ducked into a toilet stall and changed into my suit.
I struggled with trying to get a locker. I paid for one but I couldn't get it to work. At first I was just going to leave my stuff on a bench in the locker room as other people had but that gave me too much anxiety. 
I'd be in big trouble if my bag walked away. I ended up bringing it out to the rocks so I could keep my eye on it. It was no problem. There were naked people out there too. Nuts!
There were hardcore swimmers swimming laps in the big pool so I got in the kiddie pool. It was April, and it was freezing but it felt great on my achy back and legs.
It was weird that there was kelp and algae in there. I'm surprised there were no fish!
I was so happy to be swimming in this dream place. Happy the sun was out. It felt really Australian. I loved it!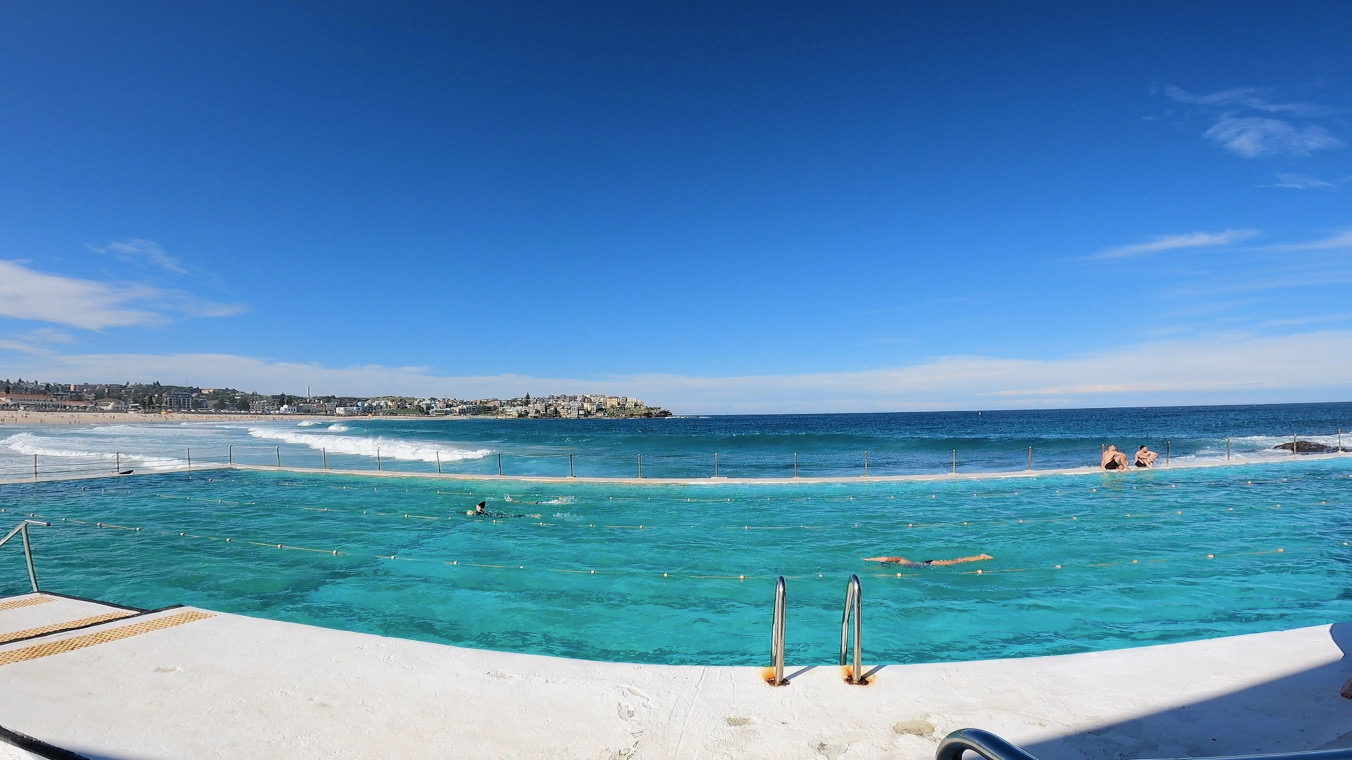 The north end of Bondi Beach is quieter and there is a small protected swimming area as well. Well not so much a swimming area as a place to get wet.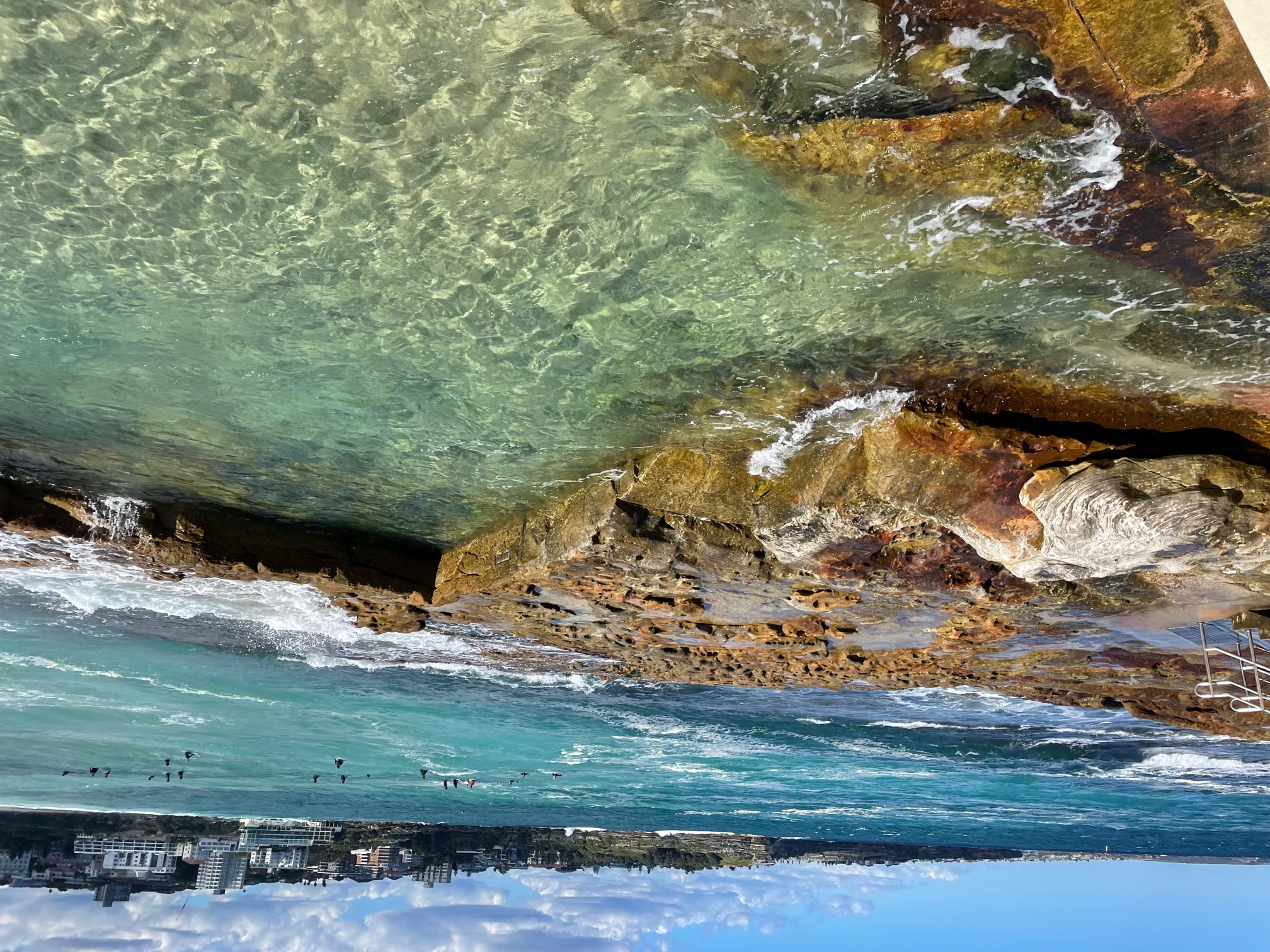 ---
---
Wild Life Sydney Zoo
The next morning I got up and walked around looking for somewhere to get a bagel until my legs ached. I never found one. The hotel's breakfast just made me too sad. 
The subway station was still closed so I took an Uber to Wild Life a mini zoo in Darling Harbour. I was like the 3rd person in line and got through the whole zoo in about 40 minutes.
I got up close with a bunch of lounging Kangaroo Island Kangaroos. That was awesome and surprising I got so close. There was basically a wooden post between us.
This is exactly what you want to see when you come to Australia!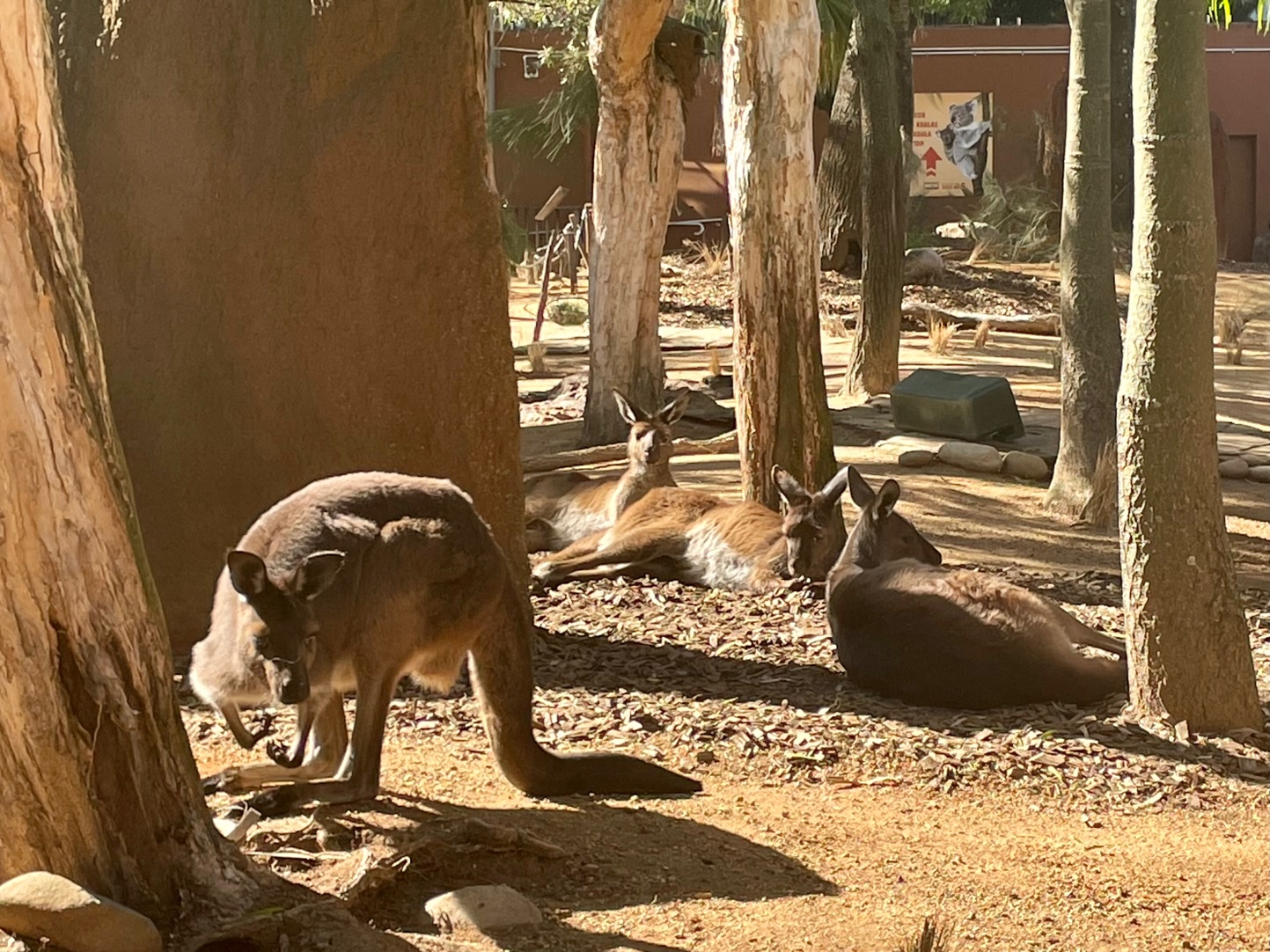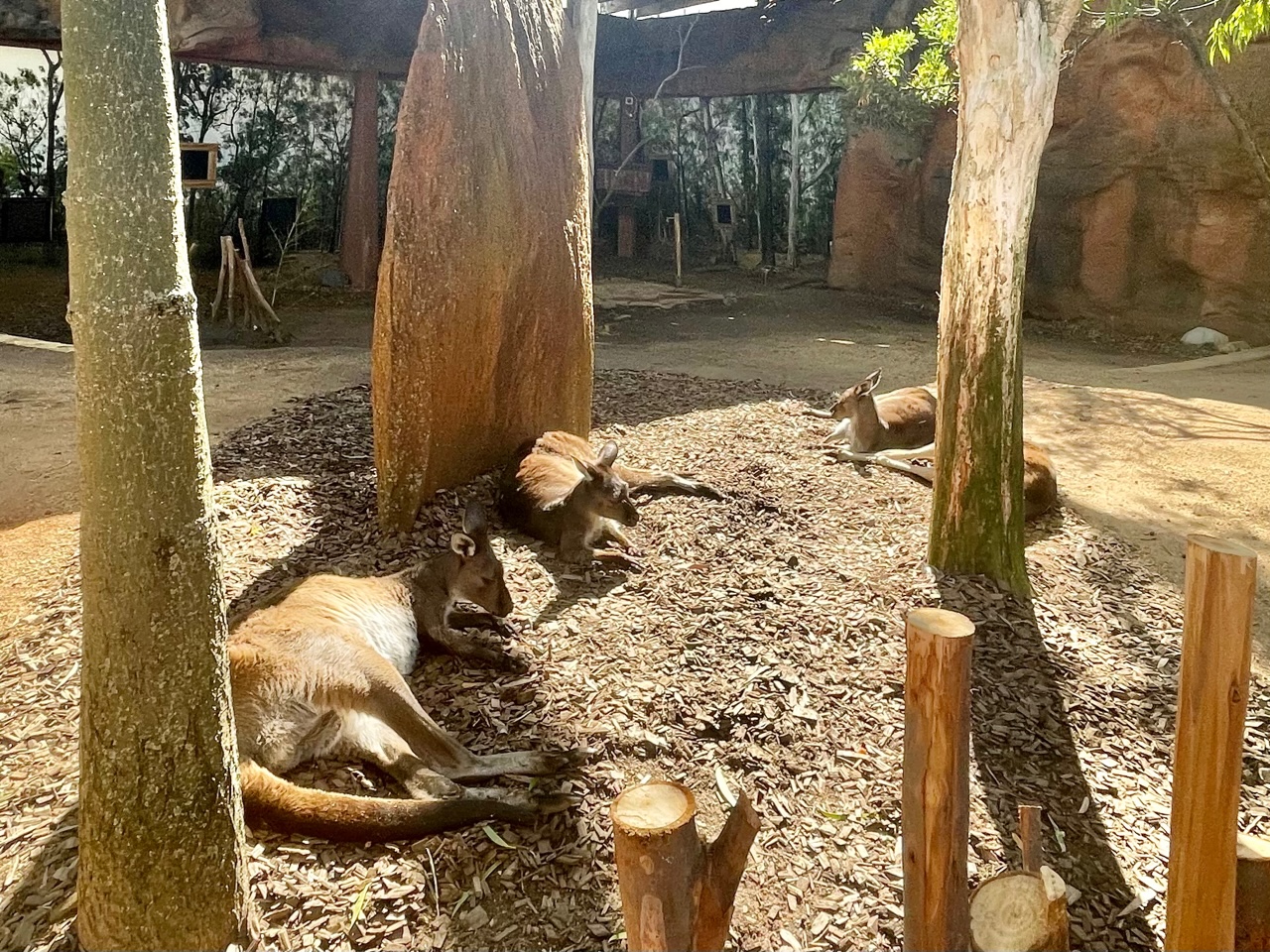 And of course Koala's! It's illegal to hold Koala's in Sydney but they do give you the option of getting up close for a photo for an extra fee. Book ahead it sells out! I waited around an extra 20 minutes to do this even though I was one of the first in line.
The eucalyptus smells great. I had one active Koala and one sleepy one. They could not have cared less about me.
---
---
Because I got through so quickly I figured the next thing I'd do is visit the Sea Life aquarium next door. But the line was so, so long. This is because they have timed entrance. You must book ahead. I didn't know that's why the line was so long at the time.
I walked around Darling Harbour instead. It's a bit fancy. All the restaurants were pretty expensive. I didn't stay long. 
The weather started to turn. There was a cold snap. Several runways at Sydney Airport had to close because it was so windy. It was cold too. The coldest Easter in Sydney in 80 years. 
I'm so glad I got my swimming in at Icebergs the day before!
I visited Sea Life the next day.
Sea Life Sydney Aquarium
I got there before it opened and there was a massive line. I had a ticket but I didn't know you also had to book an entrance time so I had to wait 15 minutes.
There were lots of coughing screaming little kids. It was a bit of a nightmare.
The jelly fish were cool. I got to see penguins. Their sea turtles look so different than the ones in Hawaii. Lots of sharks, rays and a Duong. 
I was done in an hour.
---
---
From the aquarium I took an Uber back to Bondi Beach. It was very cold and windy. I couldn't believe that people were swimming in the ocean and at the Iceberg Pools! Wow! Hardcore.
I had lunch on the boardwalk and watched as loads of people arrived by bus. I thought I would try to take the bus back home. I need to get better at taking public transportation. How hard could it be? Look at how easy all of these other people made it look.
Why do I even bother?
The bus approached and the place where you tap your credit card to board wasn't working. The bus driver just waived everyone on. WTF? Does this mean it's free?
A lady started having a fit. She didn't want to have to end up paying a full fare by not being able to tap off the bus (but you didn't even tap on). She was arguing with the driver until the first stop.
I only made it two stops before a presumably homeless guy was about to board the bus with a trolley of stuff. The bus driver told him that he couldn't bring it on the bus because the bus was full.
The guy got on anyway with the trolley. The driver told him no you can't bring that on it's too big.
The guy instantly became enraged. He shouted that he takes this route all the time and no other driver has ever said anything. He shouts that he's not in the mood for this and repeatedly tells the driver to fuck off. 
Ok. There's a mom with a little kid sitting across from me. Surely, she'll know what to do in this situation.
It was a standoff. The driver wasn't budging he wouldn't close the doors. The belligerent guy wouldn't get off. The bus was blocking traffic. Cars were honking. 
A little voice in my head said, "You can get off." Right. So, I did and ordered an Uber. 
I never saw the guy get off.
---
Australian Museum
The next day I walked to the Australian Museum. They had a cool shark exhibit, aboriginal art & artifacts, lots of items from the Pacific Islands and randomly a ton of crystals and gemstones - which are some of my favorite things! 
It's worth a visit.
---
---
I considered taking the double decker hop on hop off bus back to the beach as there was a stop right across the stree from the museum fronting St. Mary's Cathedral, but I ended up ordering an Uber instead.
It was another cold and windy day but it didn't stop crazy people from enjoying the ocean.
Taronga Zoo
Taronga Zoo was my last activity in Sydney. There are a number of ways you can get here including by ferry - but I just took an Uber. 
It was fun. It's a really big place. In some places you're walking right into animal exhibits! It was nuts! But a very cool experience.
Taronga Zoo also has incredible views Sydney's central business district.
---
---
After the zoo I got some food and then got in bed until it was time for my red eye flight. 
The plane ride was miserable until I stopped trying to get comfortable and stopped trying to sleep. It just wasn't going to happen.
I watched 4 movies and a couple episodes of a tv show.
It took 17 hours from the time I checked out of my hotel until I walked in my door in Maui.
It took a while to feel conscious again. It took me a week to recover. Plus I got sick by the end of my first day home. Traveling will do that to you.
---
---