Auckland, New Zealand
April 2023
New Zealand had been on my list of things to do one day for a long time. I never took the time to look into what I would actually do in New Zealand besides visiting Hobbiton.
Late in 2022, I started feeling a sense of doom. I could feel it in my bones. I knew I needed to start taking immediate action. Executing my Bucket List became a priority instead of it being merely aspirational.
New Zealand moved to the top of the list. I started researching activities and came up with an itinerary rather quickly.
I impulsively booked a flight to Auckland that left in 2 weeks. I wasn't even going to tell anyone I was going because it was so out of character. I felt like I had no time to waste. It was now or never. 
Days after I booked my trip, Jacinda Ardern, the Prime Minister of New Zealand, announced that she was resigning. That was very surprising news. I am one of the many people who have admired her from around the world. Her last day was going to be while I was there. Things were happening quickly.
A few days later, I experienced a tragic loss leaving me heartbroken.
---
The day before I was to depart for Auckland, I woke up and checked the weather in my town and in New Zealand. It had been raining in both places for several days and I was checking to see updates on all the flooding in my town.
After watching a video of my flooded street in Maui, YouTube suggested this video of even more catastrophic flooding going on in New Zealand:
Jesus! I had no idea it was that bad!
The Auckland International Airport Terminal had been closed for 3 days! There was knee deep water inside the terminal and I was supposed to depart the next morning. Um, no.
Why hadn't I heard anything about this??
I started seeing multiple stories of flights traveling for over 16 hours to nowhere because they were headed to New Zealand and had to turn around. What a nightmare!
Instead of checking-in for my flight, I immediately started rebooking my entire trip.
The flooding was substantial and going to take quite a bit of time to clean up and repair. Still feeling a sense of urgency (because look at all the things that had happened in a few short weeks) I pushed the trip back only 1 month.
I had no problem rescheduling all the activities except for one. The day trip to Coromandel peninsula was no longer available because the road to get there had collapsed in a landslide!
---
Just 2 weeks after the catastrophic flooding in New Zealand - the already soaking wet country was hit by Cyclone Gabrielle. It was the worst storm to hit New Zealand in a century.
My God!
There were many landslides, roads and houses wiped away, many people were missing or uncontactable, and there were several deaths. Unbelievable devastation. What a painful year!
I rescheduled my trip again pushing it back 1 more month. Another one of my scheduled activities was no longer available due to landslides and the area being totally wrecked from flooding. So sad!

AND THEN days later they had a 6.1 earthquake!
Even more proof that I can't wait to do the things I long to do because any day people, places, and things can get wiped out. The ground is literally crumbling underneath us. So, run!
Third Time's a Charm
Finally, New Zealand dried out a bit and it was time to check-in for my flight. I didn't think this day would ever come! Hawaiian Airlines accepted my bid to upgrade to First Class to Auckland. Woohoo! I suspect because the plane wasn't even half full.
When I got to my gate in Honolulu I hadn't been sitting down for 5 minutes before I got called to the podium. That freaked me out. 
The New Zealand authorities needed to know my return flight, or what day and how I was planning on leaving the country. Immigration law states, "Visitors entering New Zealand without a visa (as visa waiver visitors) must have valid onward travel arrangements when entering New Zealand (for instance a return ticket or official confirmation that a ticket is booked and paid for)." 
The US is a visa waiver country. I had only booked a one way ticket to New Zealand on Hawaiian so I had to provide them with my departure information in order to board.
Because half of the activities I had planned on doing in New Zealand were no longer available and because I'm on a Bucket List rampage - I had booked a one way Air New Zealand flight to Sydney afterwards and they needed that flight info and confirmation number.
There was a fellow in line who was traveling to New Zealand to buy a boat and he was planning on leaving the country by his new boat. This was an issue. He was at the desk for awhile. I don't know what his outcome was. 
Even though the US is a visa waiver country you still need to hold a NZeTA (New Zealand Electronic Travel Authority) before traveling. There is a small application fee. It was relatively quick and easy to obtain even though you have to download an app - ugh. 
---
Once on board I watched 3 movies and 2 TV shows. I never fell asleep.
Once we landed in Auckland, we had to wait a few minutes while the inside of the plane was fumigated with insecticide! I've never experienced this before. According to the guy sitting next to me this is common practice in the Southern Hemisphere. Oh!
The flight attendants opened all the overhead bins and then walked down the aisle with cans in both hands spraying the overhead bins. Thank god I had a mask! I could smell the fumes even through the N95. Sick. That definitely would have given me a headache.
We landed at 9:10pm so I was surprised to walk off the plane and see the Duty Free shops all lit up and employees standing there waiting to serve any of us who wanted anything. 
I couldn't even think about shopping. I just wanted to go to sleep!
I stopped at an ATM and took out $100NZD - I wish I would have taken out a little bit more because I ended up giving it all to my cab driver. I hate making multiple withdrawals.
It took forever to get to baggage claim. The airport was a maze. 
I didn't start feeling miserable until waiting for my bag. I flew First Class, I'm a Hawaiian Gold member, I had a priority tag on my bag and it was still one of the last ones off the plane. GRRRR! I guess I should be grateful that it even arrived.
The airport provides luggage trolleys for free! Imagine that. Making people's lives easier instead of figuring out ways to make money off of them in every single way possible. 
---
There are a bunch of passport scanning machines. It's all digital so you don't get a stamp :(
Then there are 2 more stops. A customs agent goes over your form that you're given on the plane. (Bring a pen!) You have to declare what food you brought - Pringles, Goldfish, & Snickers. Don't judge me!
Then you hand the form to another person and then all of your luggage gets x-rayed.
Finally, I walked out the door and the cabs were all lined up waiting on the curb. That was convenient! They're never that close! I was delightfully surprised.
---
I got to the Hilton Auckland at 10:30pm. The Bell Hop came and got my luggage out of the cab and into the lobby before I finished paying the cab the $94! He was very warm and welcoming.

I switched my hotel to the Hilton at the last minute because I didn't like the recent reviews of the hotel that I had originally booked. They were not very hospitable towards guests affected by the recent severe weather issues who's flights were cancelled while the airport was closed.
If something happened while I was there - which seemed highly probable - I didn't want to be out on the street in flood water during a national emergency. 
The review that made me switch to the Hilton said, "I'm happy just sitting here." Sold. Sign me up.
It was a bit more expensive than my previous booking but I have no regrets. It was lovely and I know they would have helped me out in a crisis. Peace of mind makes it worth every penny.
The room was clean and spacious. It took my last bit of energy to find my shower bag and PJS. Then I pretty much blacked out until 5:00am. 
Breakfast opened at 6:30am. What a feast! I love a breakfast buffet!
The restaurant overlooks the harbor. The staff were great.
---
After breakfast, I got picked up at the hotel to go on an Auckland City Tour with Bush and Beach. I'm not affiliated with them. The double decker Red Bus tours is another option.
The tour was a good introduction to Auckland. Our tour guide resembled Bruce Dern in The 'Burbs. He was in disarray from the beginning. When I got on the bus he handed me the passenger manifest and asked if I was on it. Yes.
After I was seated we drove maybe one block before he pulled over and counted us 3 times. He was missing 1 guest. Another tour bus driver stopped by and and asked him if he got the guest at Sky Tower. No.
When we got to Sky Tower he threw off his microphone and jumped off the bus and the microphone started screeching feedback full blast. When he got back in he asked what that noise was and everyone screamed the microphone! He then fell down while trying to reach for it.
A mess!
The first stop was Mount Victoria. It's the highest volcano on the North Island. It's a steep hill. Only tour bus drivers can drive to the top. I'm glad I didn't have to climb up it.
The top has panoramic views of Auckland City, Rangitoto Island, the North Shore and the Hauraki Gulf.
The cute little toadstools are not real. The devices were installed to divert water but then artists painted them into toadstools! So cool.
The next stop was Narrow Neck Beach. There was a wedding going on.
There were people out frolicking in the water with seagulls landing right next to them!
I regret not feeling the water to see what the temperature was like. I didn't want to get sand in my shoes.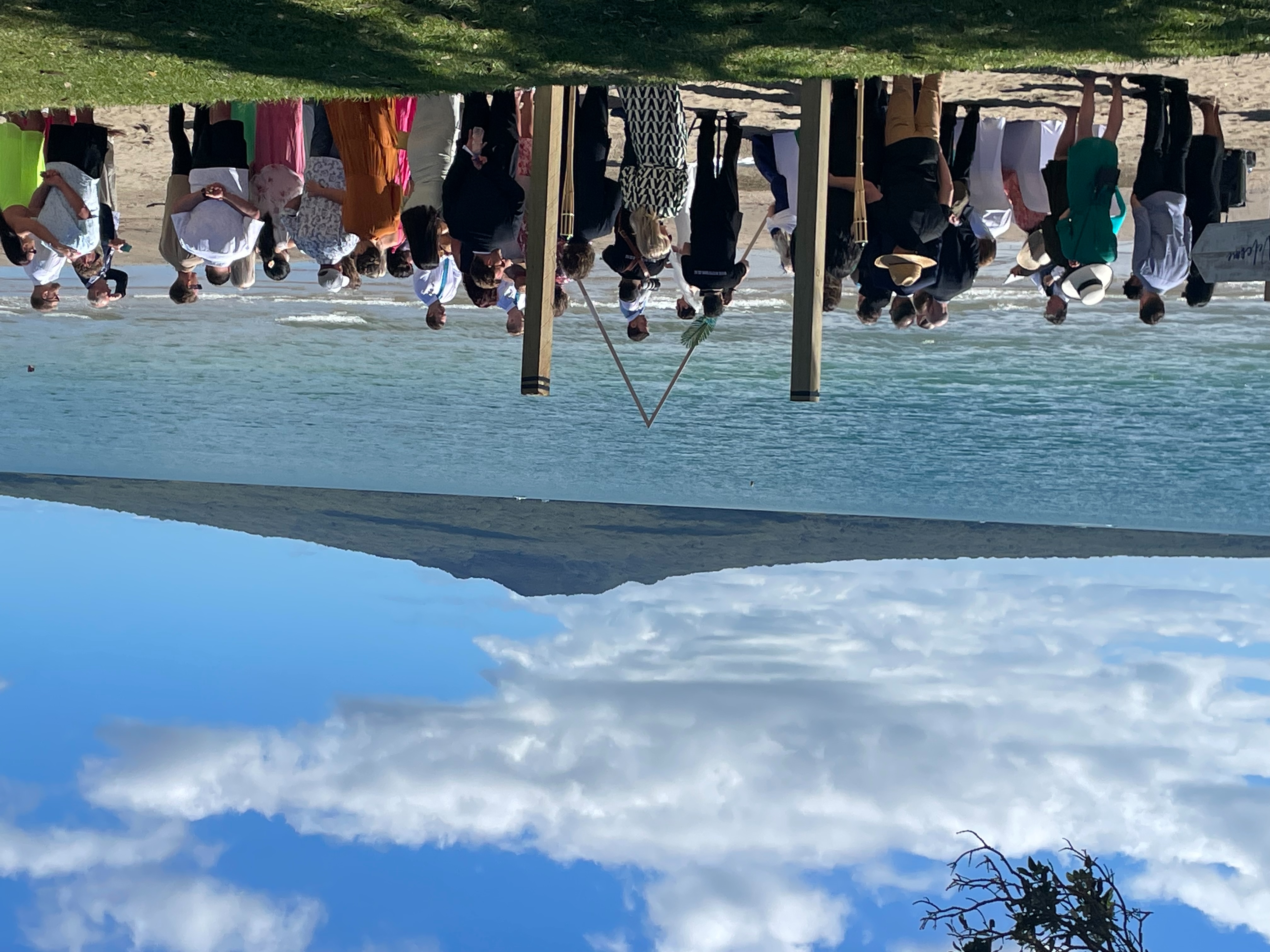 The next stop was the Winter Gardens at the Auckland Domain. There were three different kinds of greenhouses - a fernery, tropical house, and a cool house.
I loved this place!
The flowers were so pretty and the fernery felt like being in the wilderness even though it was man-made. It's as close as I could get because my Wilderness Tour was cancelled due to storm damage.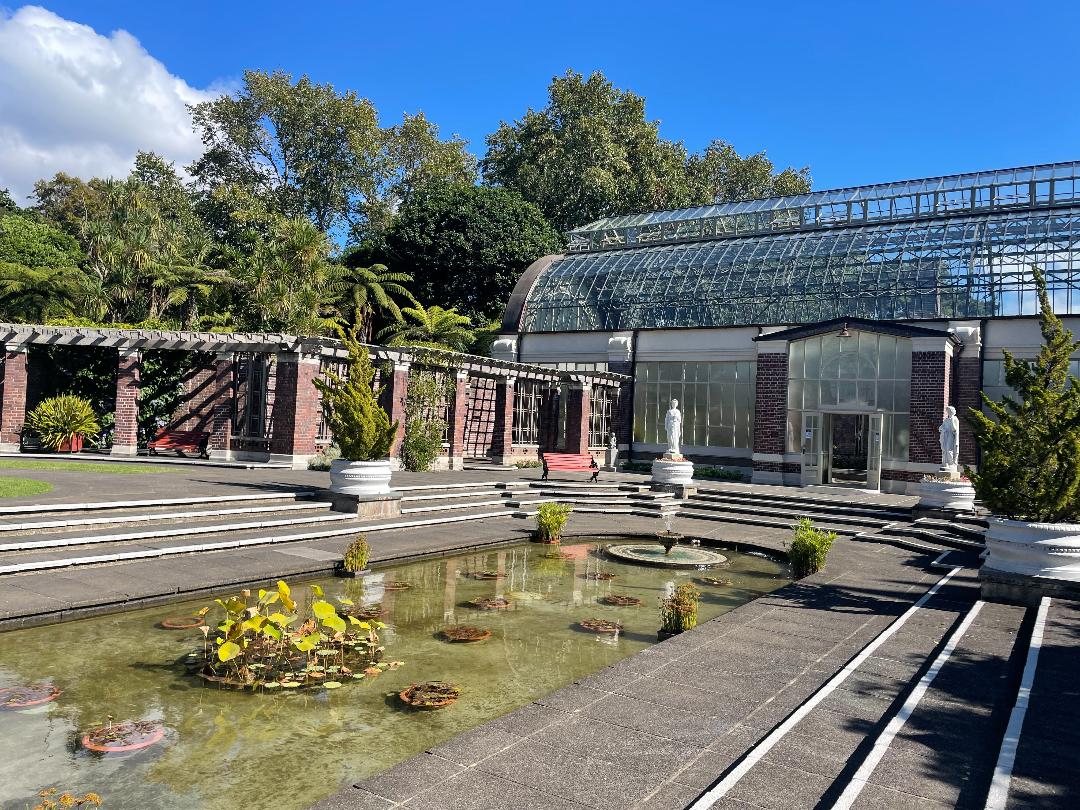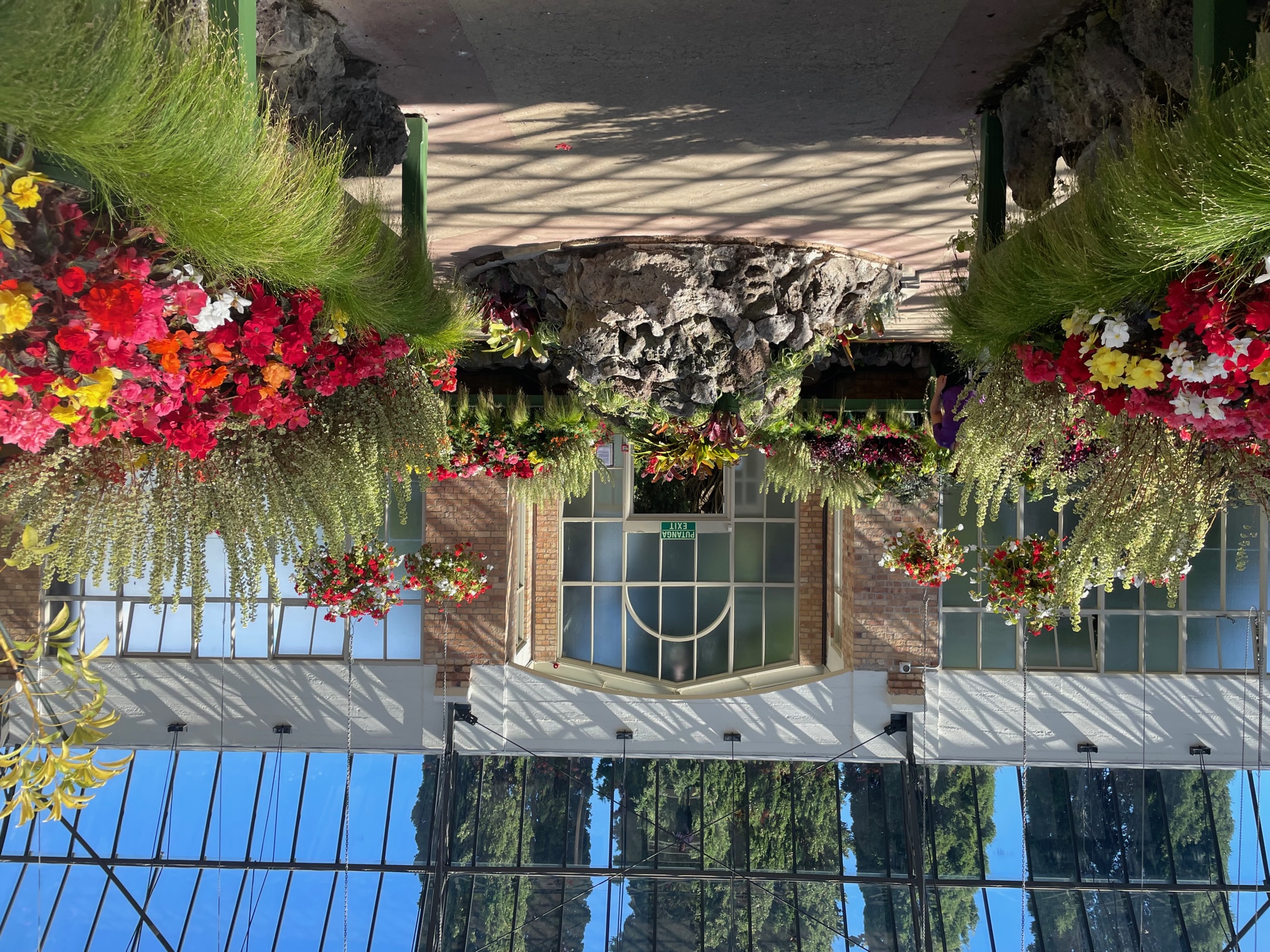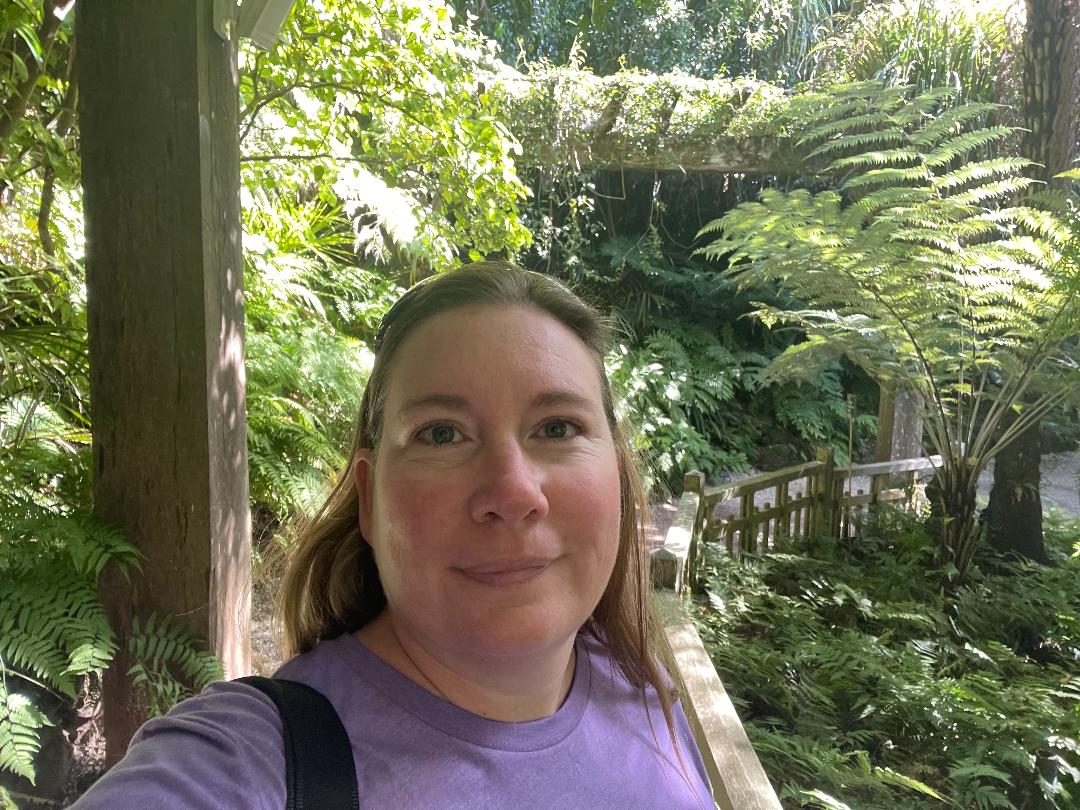 We spent an awful long time in traffic. It was Friday afternoon. The traffic was so backed up that our driver didn't want to take any of us back to our hotels. He asked if he could just drop us off at the bottom of Queen Street. Fine. I don't know where anything is yet, but, fine. I wanted off the bus. He was a herky jerky driver and there was a guest singing and whistling in the back. 
Queen Street is a madhouse but I found tacos and chocolate shop. What more do you need?
Be sure to pick up some Manuka Honey. Every tourist shop sells it. The cheapest place I found it was at the grocery store.
Manuka Honey is native to New Zealand and known for it's antifungal, antibacterial, antioxidant, anti-inflammatory, anti-viral properties as well as wound healing abilities.
It's not the best tasting honey I've ever had but when in New Zealand...
---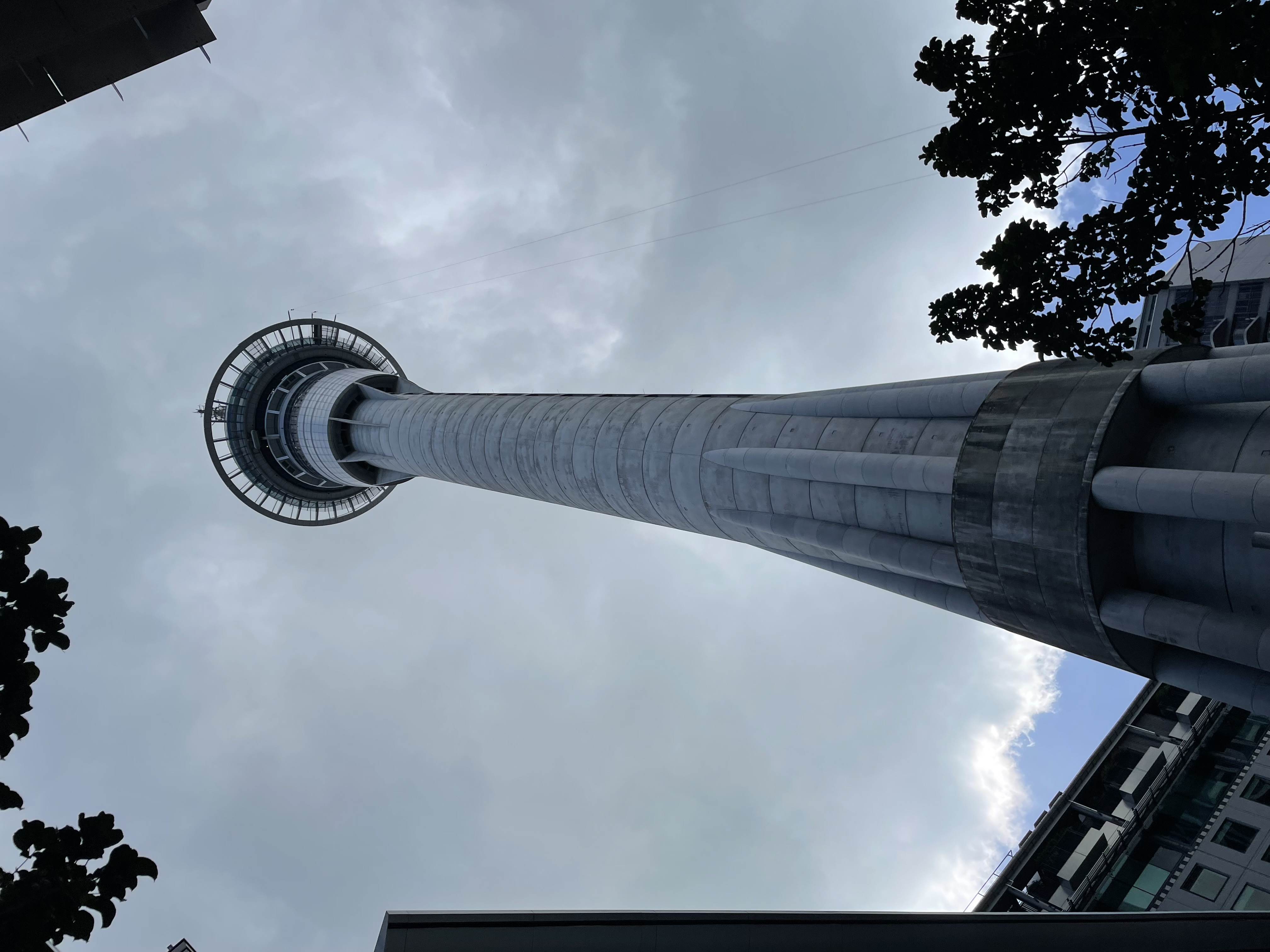 Sky Tower is the tallest structure in the Southern Hemisphere. You can jump off it. It's not so much a bungee jump as it is a vertical zipline.
I considered it briefly but ultimately didn't. Beyoncé, did. Twice. 
---
During our tour we drove by the Auckland War Memorial Museum. I saw a sign outside that said they had a Stonehenge Exhibit. So I knew I would be coming back for a visit.
The museum is huge. I enjoyed it. It's a good place to spend a rainy day.
I got to learn more about Māori culture, watched a Haka performance, and saw two T-Rex skeletons!
New Zealand feels like Hawaii's cousin. The Māori culture is so similar to Hawaiians. Everything is the same but one off. 
Aotearoa (ah-oh teh-ah roh-ah) is the Māori word for New Zealand. It means land of the long white cloud.
Like aloha, Kia Ora has several meanings: hello, good morning, good luck, and take care.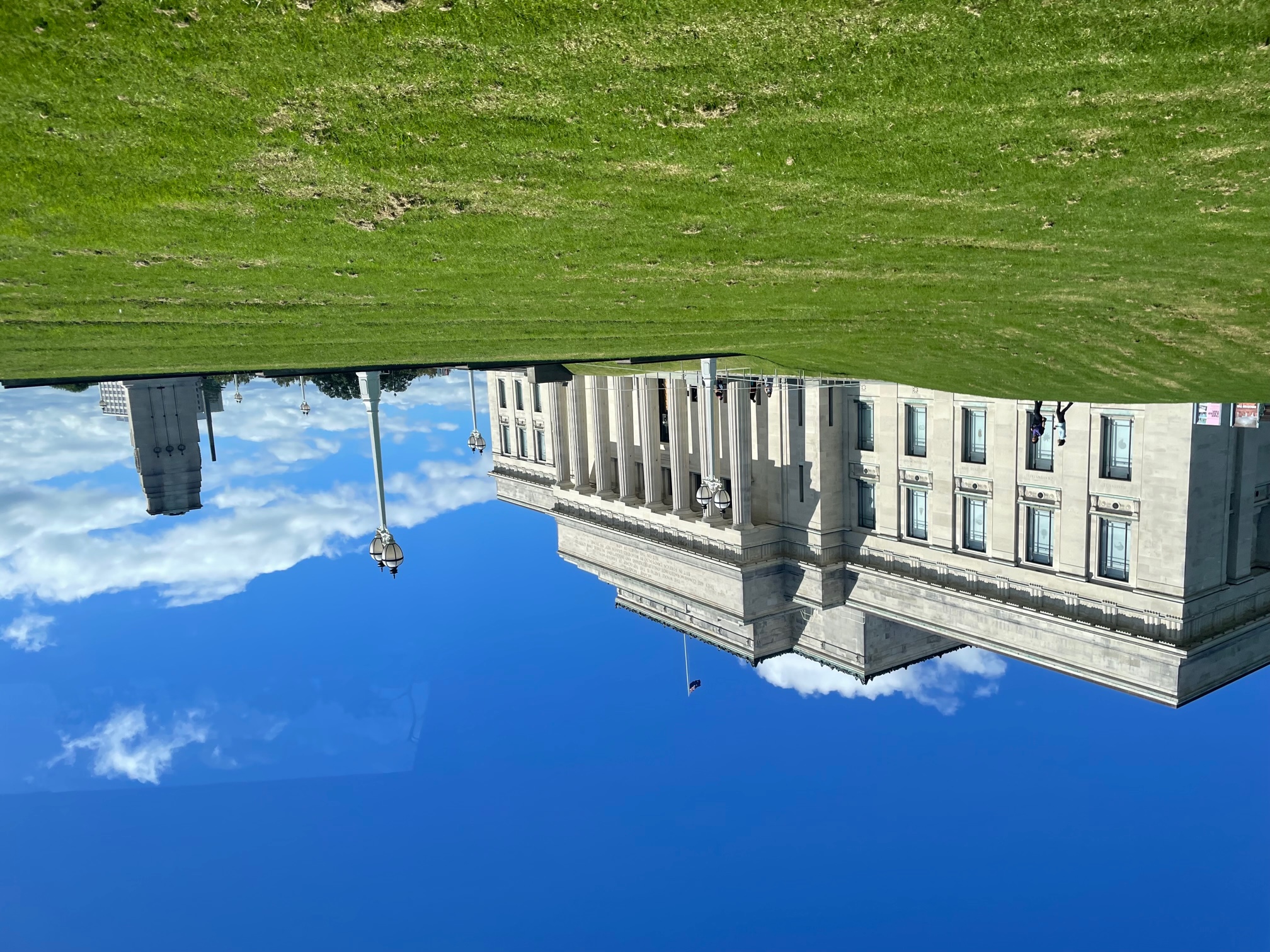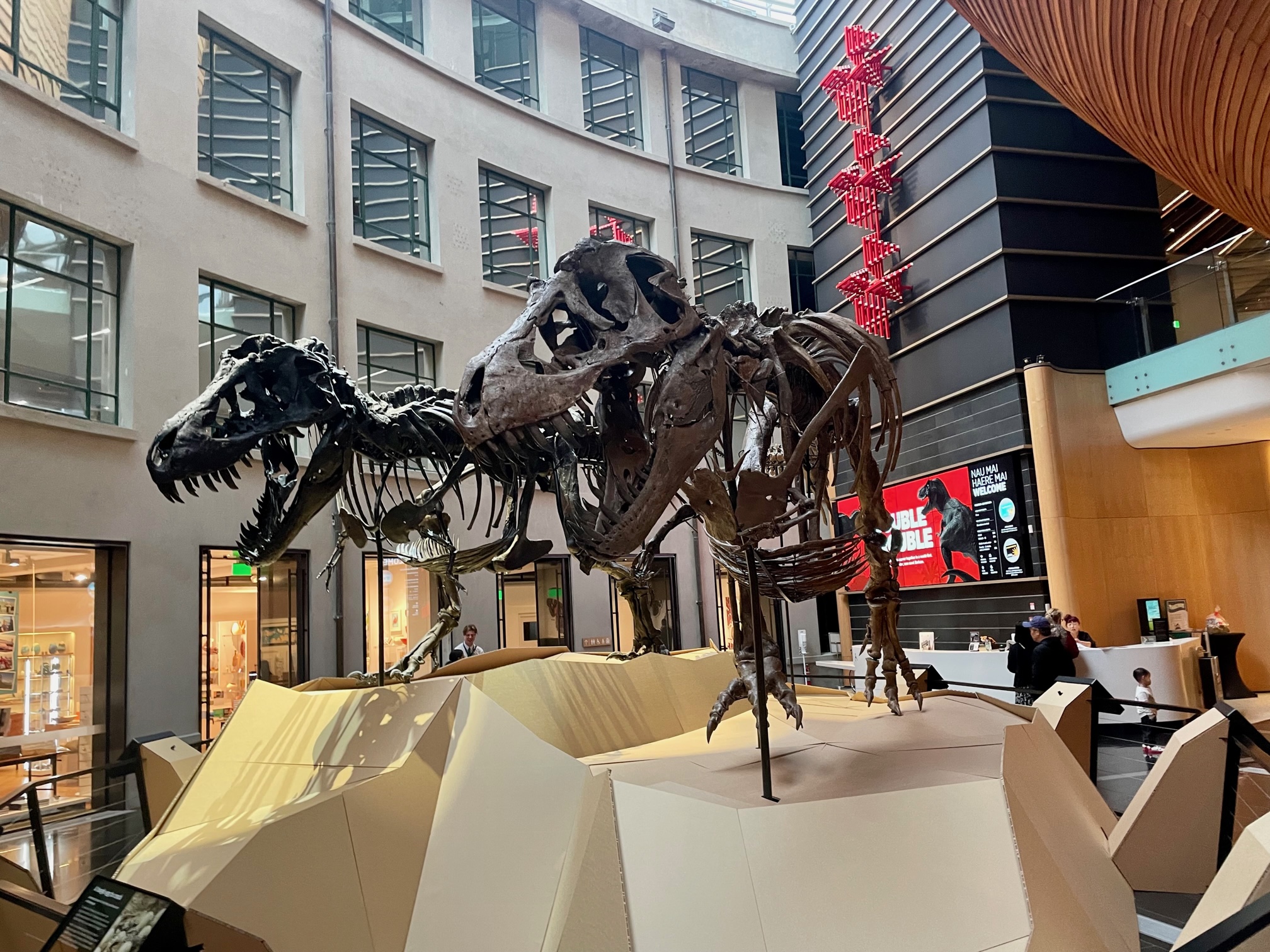 ---
I booked a tour of the Wētā Workshop. A must do for any movie fan or creative person. The Wētā Workshop Unleashed tour takes you behind the scenes on how special effects are made for movies and so much more.
The gift shop alone at the Wētā Cave is worth the visit. I wanted ALL the things! They have countless Lord of the Rings collectibles and they are so well done!
I also attended both hands on creative workshops they offer - one was fantasy and the other horror.
The entire experience was so much fun. I would love to go back.
I wrote a separate post about Wētā here.
I took a tour to Hobbiton and Waitomo Caves. It was the most fun day ever!!
I wrote a separate post about my Hobbiton tour here. 
On the way to Waitomo Caves we stopped at a dam I don't remember the name of. I think it's Whakamaru Dam.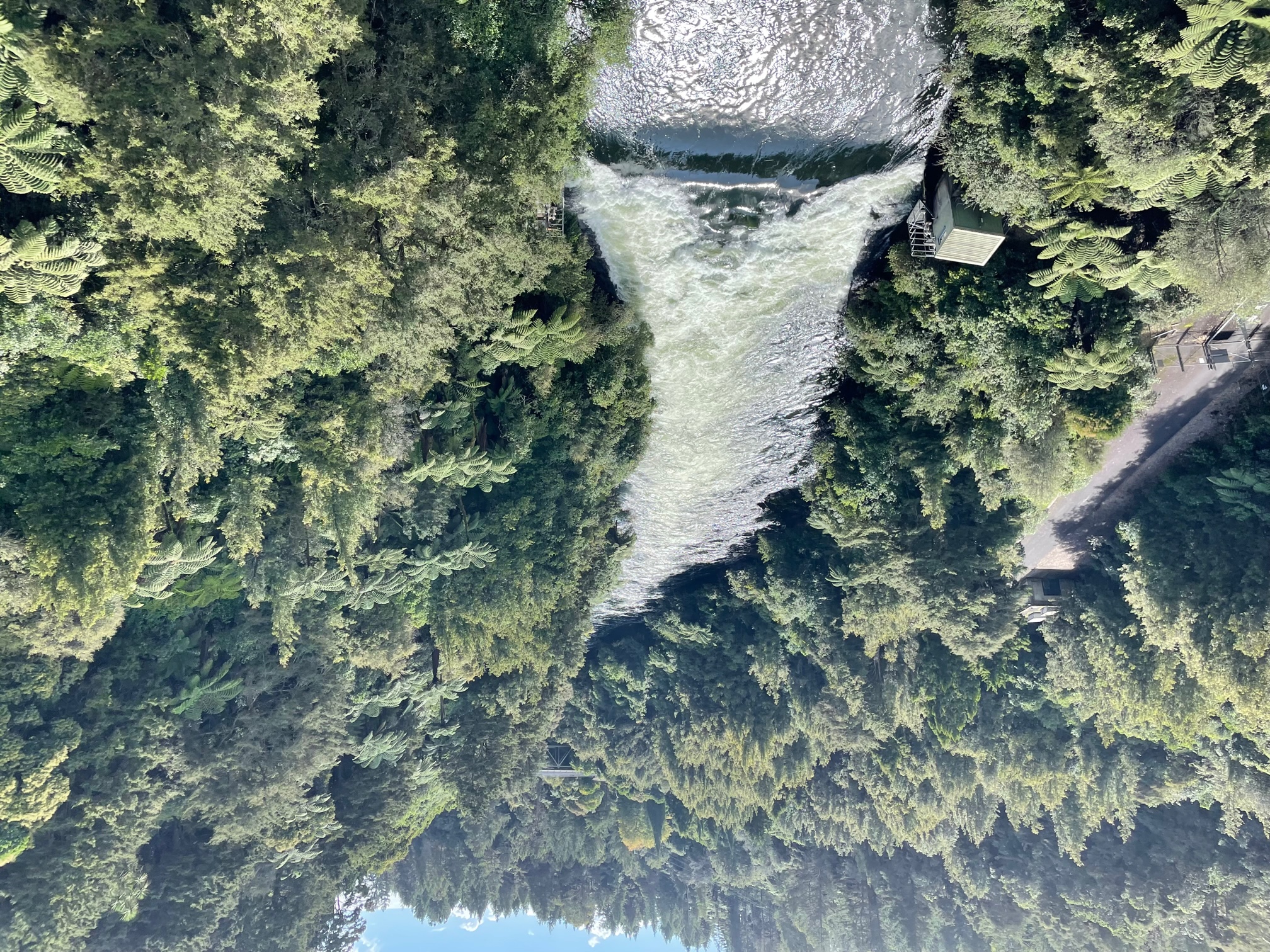 The Waitomo Caves were very cool! I loved being under ground. At the end you get on a little boat to see the glow worms. They're like little blue lights.
Imagine being on the Pirates of the Caribbean ride only in pitch black and silence. You're not aloud to speak or make noise or take photos so as to not disturb the glow worms. They stop glowing if they get scared.
Oh, and there were eels in the water. Very different looking eels than the ones we have in Maui! Eek.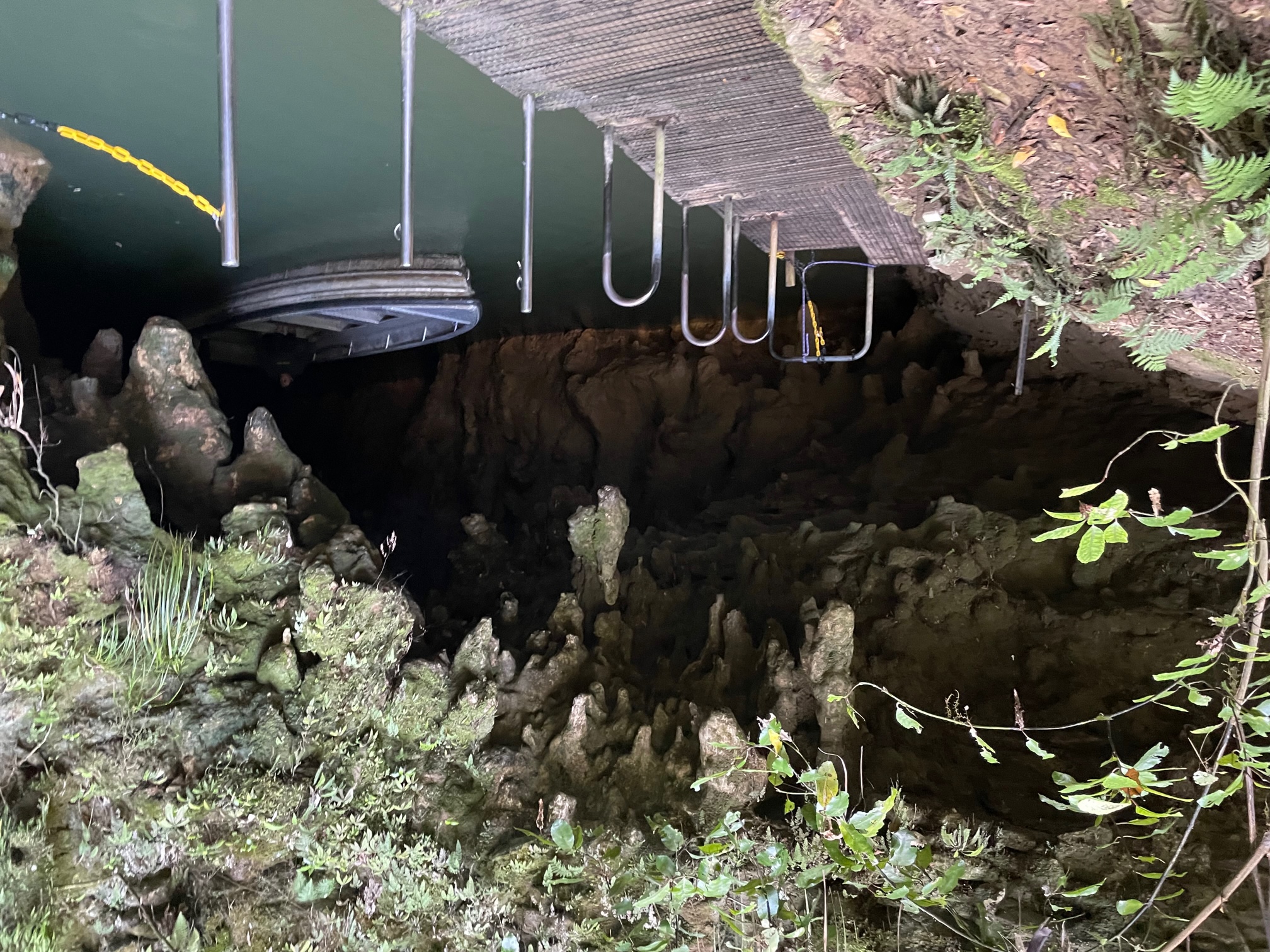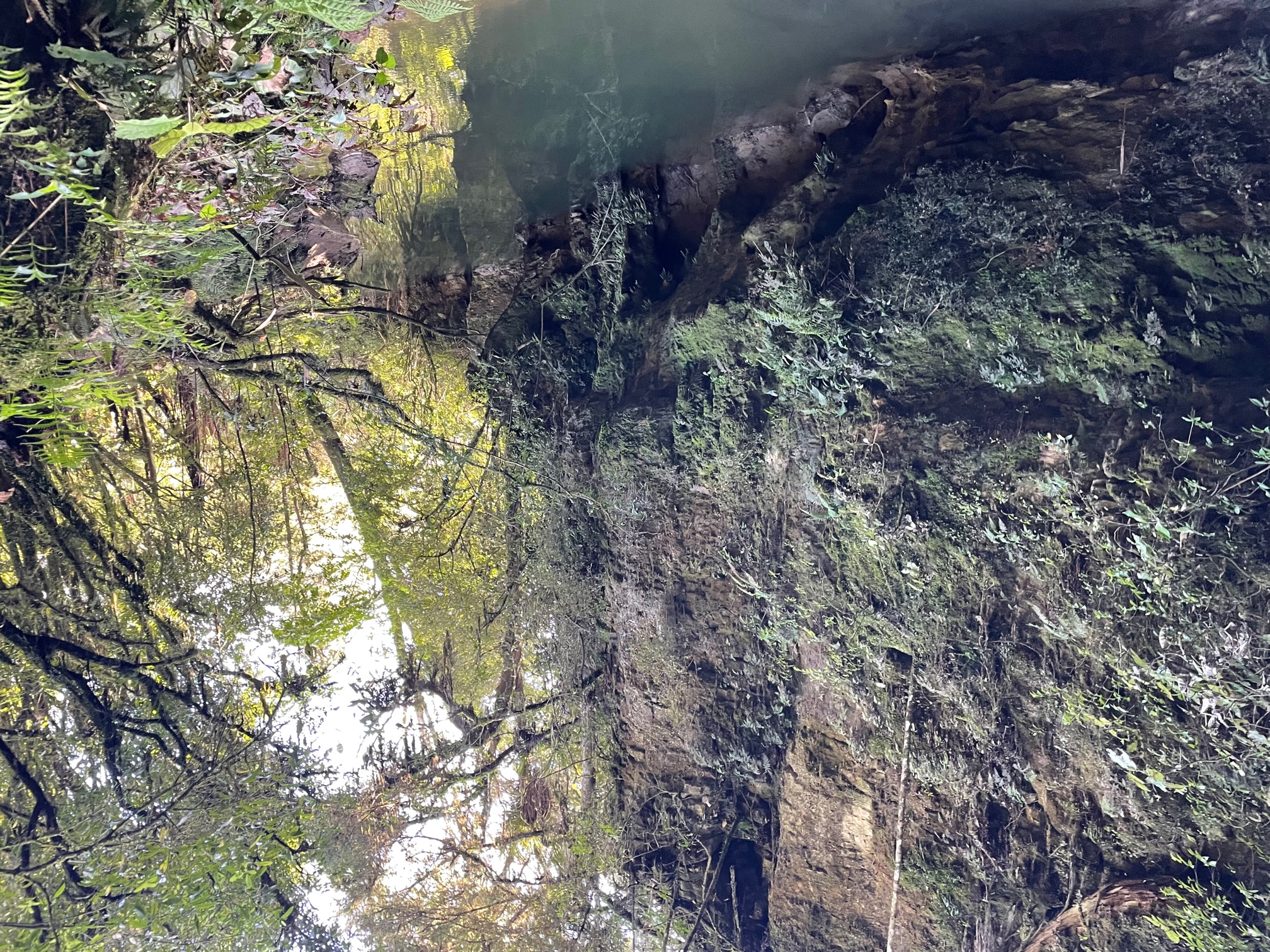 Overall I had an excellent time.
I stayed in Auckland for 6 days. Depending on who you ask that's too many days or too few. People on my tours were shocked to learn I was in New Zealand for such a short period of time and staying in Auckland for such a long period of time.
There is still so much to see and do in New Zealand. I know! I only got a little taste. The storms altered my plans but I did what I could. I'm fairly certain I will go back.
If you can make the journey, no matter for how long - I highly recommend it!
From Auckland I flew to Sydney, which I wrote about here.
---